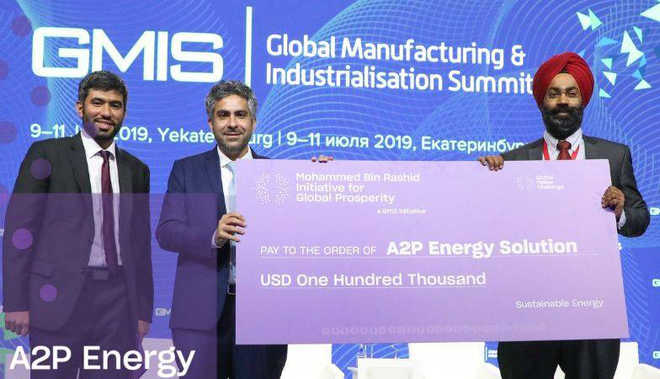 Vijay C Roy
Tribune News Service
Chandigarh, July 23
A startup from Punjab has not only competed with the best in the world, but also won Global Makers Challenge 2019 under sustainable energy category during Global Manufacturing and Industrialisation Summit held recently in the Russian city of Yekaterinburg. The summit was opened by Russian President Vladimir Putin.
Founded by Sukhmeet Singh in 2018, Punjab-based A2P Energy Solution (P) Limited was selected as winner from over 1,100 entries from 83 countries in an open challenge.
The company seeks to provide solution to the most pressing issue of stubble-burning. It is working with farmers in Punjab by buying this crop residue, helping them earn an additional income from farm waste and converting this waste to useful products for the energy sector.
"In the last one year, we have converted 900 tonnes of paddy waste into fuel pellets, saving 13.14 lakh kg of CO2. Since Punjab alone generates 20-25 million tonnes of paddy stubble, we can well imagine the potential, "said Sukhmeet.
As a technology consultant, Sukhmeet worked for companies like TCS, Satyam and Tech Mahindra and in countries like the US, UK and Dubai. However, he was driven to come back and work on social problems facing the India. Agriculture being the focus areas, he strived to bring solution to the grave problem of paddy stubble burning.
Top News
Says won't affect the reservation for Gujjars under the ST c...
According to reports, avalanche hit the mountaineering team ...
Addressing a press conference ahead of the Air Force Day on ...
The flying object makes 5 forays into the Indian territory t...