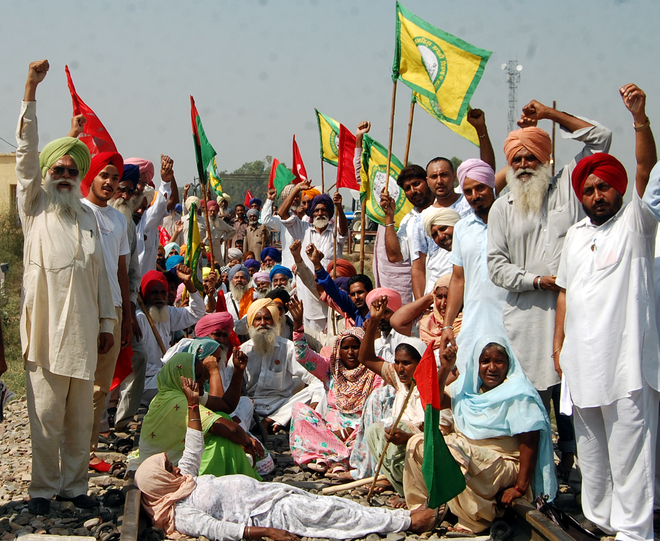 Sarbjit Dhaliwal
Tribune News Service
Chandigarh, October 8
The "rail roko" agitation by Punjab farmers demanding higher compensation for their cotton and basmati crops paralysed train services in the state for the second day today as the unions leading the protest extended it by another two days.
Forty-one trains, including the India-Pakistan Samjhauta Express, had to be cancelled after farmers protested on the tracks at seven locations: Muchhal (Amritsar), Moga, Mansa, Rampura, Shergarh (Bathinda), Pathrala and Lehragaga. Three trains were diverted while 15 others were halted midway. A railway official said 75 trains had been cancelled over the past 48 hours while 24 were diverted and 48 stopped midway.
The agitation is being spearheaded by eight farmer unions to pressure the SAD-BJP government to accept their demands, including Rs40,000 per acre compensation for cotton crop lost in whitefly attack, a minimum Rs4,500 per quintal remuneration for basmati varieties and Rs20,000 each for the agrarian crisis-hit farm workers.
Along with thousands of commuters, the Railways has been at the receiving end, suffering huge losses since the protest started. Sources said it would take some days to normalise the operation of trains in Punjab even if the agitation ended on October 10.
Bharatiya Kisan Union leaders Sukhdev Singh Kokri Kalan and Hardev Singh Sandhu claimed the agitation had been extended as the state government appeared "unmoved by the sufferings of the farming community". They said the unions would decide their future course of action on Saturday.
Around 15,000 activists are learnt to be participating in the protest, some of whom have been detained by the police. Sources said Chief Minister Parkash Singh Badal had taken stock of the situation even as farmer unions criticised his deputy Sukhbir Singh Badal's statement that the agitation was "politically motivated".
Top News
Says govt keeping eye on Covid situation, prepared to face a...
The slab constructed on top of an ancient `bawdi' or well co...
He is serving time in a road rage case dating back to 1988
Trump call it 'political persecution and election interferen...
India is likely to end this fiscal year with total exports o...