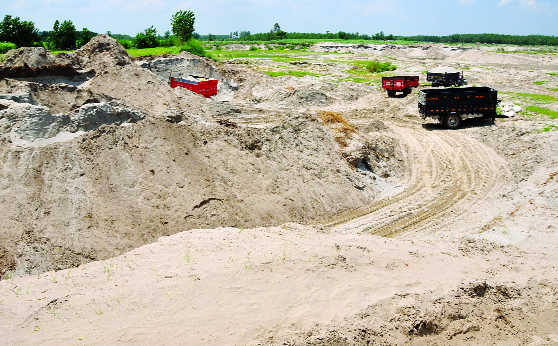 Vishav Bharti
Tribune News Service
Chandigarh, May 24
Till recently, Amit Bahadur would serve sumptuous paranthas to employees at the office of Rana Sugars. Today, he is the owner of one of the most expensive sand and gravel mines in the state. In Friday's e-auction of mining sites, he outdid 32 bigwigs to bag a quarry at Saidpur Khurd village in Shaheed Bhagat Singh Nagar (Nawanshahr) for a whopping Rs 26.51 crore.
(Follow The Tribune on Facebook; and Twitter @thetribunechd)
At least three more employees of Rana Sugars, the company owned by Punjab Power and Irrigation Minister Rana Gurjit Singh, have got mining contracts in the e-auction of 89 sand and gravel mining sites conducted on May 19 and 20.
Amit Bahadur, who is of Nepalese origin, was working as a cook at Rana Sugars. Due to his "loyalty", he was made a personal assistant and recently shifted to the company's human resource department.
Besides raising eyebrows, how a person of his means could successfully bid for a Rs 26-crore quarry has become the talking point in the corridors of power.
When contacted, Bahadur confirmed being an employee of Rana Sugars and having bagged the quarry. He said he was from Moradabad and though his father came from Nepal, the family had settled in Uttar Pradesh long ago.
Similarly, another employee of Rana Sugars, Kulvinder Paul Singh, bagged the Mehadipur quarry (also in SBS Nagar) for Rs 9.21 crore. Kulvinder is the liaison man for Rana Sugars and deals with various government departments. When contacted, Kulvinder said his current designation was Deputy General Manager. He said he had deposited the remaining bid amount on Tuesday before the deadline.
Two more employees of the minister also figure in the list of 89 successful bidders. Gurinder Singh got a mining site at Rampur Kalan village in Mohali district for
Rs 4.11 crore. He takes care of cane operations at Rana Sugars. A mining site located in Bairsal village has gone to Balraj Singh, who too takes care of cane operations for Rana Sugars, for Rs 10.58 crore.
When asked how he managed to source Rs 26 crore, Amit Bahadur, who claims to be a "small-time employee", said: "Koshish karne se sab ho jayega." Kulvinder Paul Singh initially claimed he had all the resources but later said he was still arranging the money, before disconnecting the call.
Power Minister Rana Gurjit Singh could not be contacted despite repeated attempts.
The previous SAD-BJP government had drawn much criticism owing to the party leaders' alleged collusion with the mining mafia.
The common modus operandi of the mining mafia is to get an auction site (deemded fit enough by them to be "exploited") at exaggerated rates and then indulge in illegal mining in the surrounding areas.