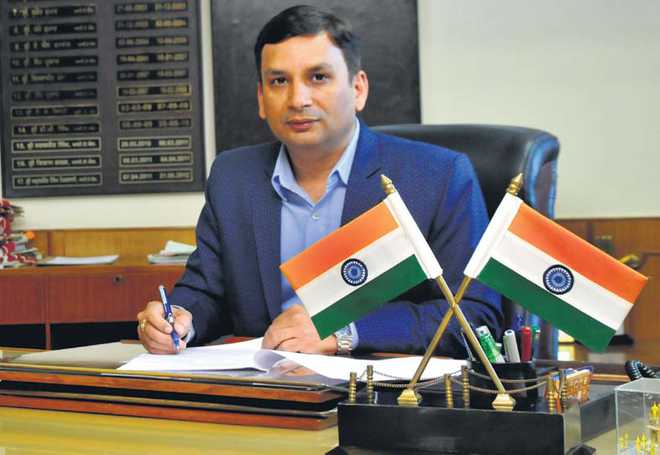 Nitin Jain
Tribune News Service
Chandigarh, February 8
When people go to watch the movie "Padman", starring Akshay Kumar, not many would know that Punjab has its own "Padman" who has broken new ground with his unique initiatives, and given many a woman the means to face her monthly natural cycles fearlessly, and lead a life of dignity. The movie is being released on Friday.
The movie "Padman" deals with the problems Indian women face during the menstrual days. It is the story of the guy next door who starts preparing sanitary napkins for female members of his family and gradually grows on to provide napkins to other women also.
This "real-inspires-reel" movie revolves around people around us who silently and voluntarily contribute to the welfare of others. One such name the movie brings to mind is that of Ravi Bhagat, a young IAS officer of Punjab who has rendered exceptional services for the welfare of women in the state by extending his hand in making available sanitary napkin manufacturing and vending machines at the places where he was posted.
Long before the movie makers thought about the idea to make a feature on the issue, during his stint as Deputy Commissioner of Faridkot, Amritsar and Ludhiana, Bhagat, who is presently posted as the Chief Administrator of PUDA and GMADA, had done path-breaking work by taking up the unique initiative of providing low-cost sanitary napkins to rural and underprivileged girls and women.
Sharing his thoughts with The Tribune here today, Bhagat, a 2006-batch IAS officer, reminisces that the idea behind manufacturing sanitary pads and installation of napkin-vending machines was to provide affordable napkins to women, particularly to those settled in rural areas, where women still use traditional methods during their menstrual cycle every month.
"The aim was to raise the hygiene level of women and girls, especially in villages, where because of lack of awareness, financial problems and social stigma, little effort had been made to provide sanitary napkins. Napkin-vending machines were installed in various schools as girls used to feel shy to purchase these from vendors. Besides, it was decided to provide three napkins every month without any cost to every girl," he said.
According to Bhagat, it served two more ends. It helped in checking absence of girls in schools during the menstrual days. Besides, the manufacturing of sanitary pads was given to rural as well as homeless girls, providing them employment, which resulted in their financial empowerment.
"We roped in various NGOs, private banks and philanthropists under the Corporate Social Responsibility (CSR) activity and got machines installed in about 45 schools of various villages. Vending machines were installed at Government Model Senior Secondary School at Punjab Agricultural University, Ludhiana, and at a women's jail in Ludhiana. The cost of each vending machine was Rs 25,000, which were installed by HLL and sponsored by various persons and companies under the CSR," said Bhagat.
Along with napkin-vending machines, incinerators, each costing Rs 23,000, meant for proper disposal of sanitary pads, were also installed in several schools. With assistance from locals and self-help groups, the administration took up production of low-cost sanitary napkins with manufacturing units at Faridkot, Ajnala and Amritsar, besides installing tampon-vending machines in schools.
Other states followed suit
The idea of napkin-vending machines and incinerators garnered huge attention from other states also. Impressed by this idea generated by Bhagat, the Rajasthan Government roped in the same vendor and placed a mammoth order of Rs 2 crore to install such machines in all schools in the state. True, Punjab has its own "Padman".
Top News
According to Rushdie's agent Andrew Wylie, nerves in his arm...
Natwar was Minister of State for External Affairs when Rushd...
All the four employees were dismissed from service under Art...
State government issues notification, move expected to save ...
The exam was postponed for 11,000 candidates to accommodate ...