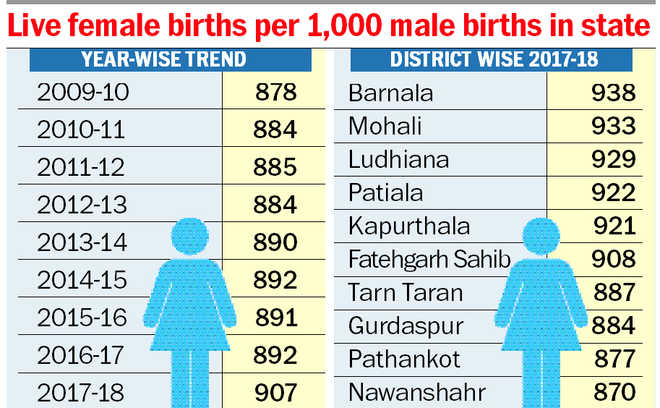 Vishav Bharti
Tribune News Service
Chandigarh, September 12
Once labelled as the land of "female foeticide", Punjab has seen a significant improvement in gender ratio in the past one decade — 907 girls for every 1,000 boys, up from 878 in 2009-10. Alarmed at the skewed figures in the 2001 Census (798 girls per 1,000 boys), the state government had launched special initiatives, which paid off.
As per the 2001 Census, Fatehgarh Sahib had the worst gender ratio in the country of 766, which now stands at 908 live female births per 1,000 male births. District-wise, Barnala tops the chart with 938 girls, followed by Mohali at 933, Ludhiana 929, Patiala 922 and Kapurthala 921. At 870, Nawanshahr is at the bottom of the ladder. Among the worst-performing districts are Pathankot (877), Rupnagar (879), Gurdaspur (884) and Tarn Taran (887).
As per a study by the Health Department, steps such as GIS mapping of registered ultrasound centres —1,589 in all — and free treatment to the girlchild in government hospitals up to age five have paid dividends, with 50,000 girls benefiting from the scheme every year.
Experts attribute the success to strict implementation of the PCPNDT Act, 1994. "Serious efforts were made to strictly implement the PNDT Act. Now people are going to neighbouring states for sex-determination tests. There is a need for better inter-state coordination," observed Dr Rajesh Kumar, Head, School of Public Health, PGIMER, Chandigarh.
Interestingly, it is for the first time that Haryana has performed better than Punjab with 914 female live births for every 1,000 boys.
Top News
Resolution gets the backing of 13 Council members, while the...
The written answer to unstarred question number 980, uploade...
Punjab Police tell Punjab and Haryana High Court that the in...
Move comes day after Ali walked out of Lok Sabha proceedings...
The tax department has deployed about 40 large and small mac...