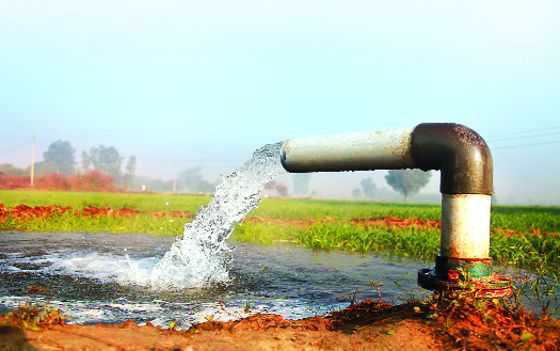 Sanjeev Singh Bariana
Tribune News Service
Chandigarh, May 13
Punjab will be rendered a desert within 25 years if the exploitation of its underground water resources continues at the current rate, a draft report of the Central Ground Water Board (North-Western region) has warned.
"At the current rate of extraction, all available groundwater resources till the depth of 300 metres in the state will end in 20-25 years," it says, adding that all available groundwater resources at a depth of 100 metres will end within 10 years.
Confirming the noting in the draft report, prepared every four years, Punjab's Agriculture Secretary Kahan Singh Pannu said the "latest reports on the declining water level in Punjab, including by the Central Ground Water Board, are alarming. It looks as if we are staring at the end of our world. Simply put, it is a red alert period and the hooter for saving water is blaring out of concern."
Eminent agriculture economist Dr SS Johl said, "The main culprit of the falling water levels is the rice crop. Farmers got free water and wastage was rampant. Water should be priced. At the same time, no agriculture can survive without subsidy under existing circumstances. But, it should not be on water. The subsidy amount should be increased to Rs 20,000 crore from the existing Rs 8,000 crore. It should be distributed equally even to farmers who have no tubewells."
As per a Punjab Agricultural University study regarding groundwater fluctuations over the span of 28 years (1988-2016), there has been an average fall of 51 cm annually. Separate reports by the National Aeronautics and Space Administration (NASA), National Institute of Hydrology, Roorkee, and Indian Institute of technology (IIT) Kharagpur, at different points of time have highlighted the concern over non-renewable loss in ground water volume.
PAU Vice-Chancellor Dr Baldev Dhillon said, "Farmers need to be compensated for not planting paddy. There is good reason in the demand for de-notifying long-duration paddy varieties. Our university is promoting early maturing varieties."
Bharti Kisan Union (Rajewal) president Balbir Singh Rajewal said, "Farmers don't have a way out than using the underground water under existing conditions. Why is the state water being given to other non-riparian states? Unless Punjab was given its share of water or the government facilitates alternative crops by assuring a fixed price, Punjab will be doomed."
EXTRACTION FIGURE UP SUBSTANTIALLY
The extraction of underground water as per the Central Ground Water Board Report of 2013 was 149 per cent. The latest report puts the figure at 165 per cent. Much of it by the 14.31 lakh tubewells in the state.
Underground water recharging was 21.58 billion cubic metres annually, while the gross water withdrawal was 35.78 BCM.
Top News
The Sukhoi-30 and Mirage 2000 aircraft had taken off from th...
People who assembled at the site extricated the two pilots f...
The hearing begins hours after 'sources' in New Delhi say In...
Resplendent gardens will be open for public from January 31
Incident took place 3 am on Friday when the victims were ret...