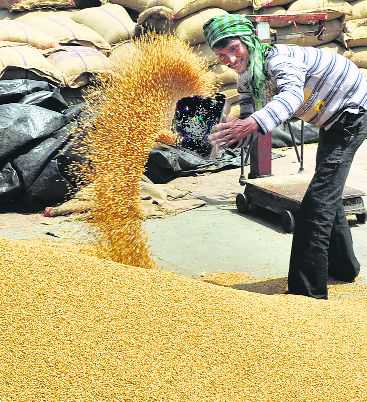 Ruchika M Khanna
Tribune News Service
Chandigarh, May 22
Punjab has broken all records in wheat production and wheat procurement this year. With the procurement season ending on Saturday, the state is all set to procure over 131 lakh metric tonnes of wheat, with the total production being 181 lakh metric tonnes.
The highest wheat procurement by government agencies was in 2012-13, when the state had procured 129.34 lakh metric tonnes of wheat. While 129.59 lakh metric tonnes of wheat has already been procured by the different state procurement agencies and Food Corporation of India (FCI), officials of the Food and Supply Department say with three more days to go, the total procurement is expected to go up to 131 LMT.
Of the total wheat arrivals in the mandis, 128 LMT has been procured by the state agencies and Food Corporation of India, while 1.5 LMT has been procured by private traders.
Anandita Mitra, Director, Food and Supply, Punjab, told The Tribune that while 96.50 LMT of wheat was procured from the Malwa region, 19.10 LMT was procured from Majha and 13.90 LMT from Doaba. "More than 95 per cent of the wheat stocks procured have already been lifted, with over Rs 20,000 crore worth of payment to farmers having been released," she said.
Officials in the state Agriculture Department said the total wheat production has been 181 lakh metric tonnes. "The yield of wheat has increased substantially — from 50.64 quintals per hectare to 51.71 quintals per hectare. This is mainly because we managed to curb the use of poor quality seed. Farmers got subsidy on seed only if they bought it from the state-owned seed corporations or Punjab Agricultural University. As a result, wheat production in Punjab has also increased," says Sutantar Kumar Airi, Director, Agriculture, Punjab.
Though late rains, just before the harvesting, in large parts of the state were expected to play a spoiler and bring down the wheat yield, the farmers in most parts acted swiftly and drained standing water from the fields. It is only in Hoshiarpur and Gurdaspur districts that the waterlogging problem in fields persisted, especially in areas near the Beas and Sutlej that did lead to a lesser yield, says Airi.