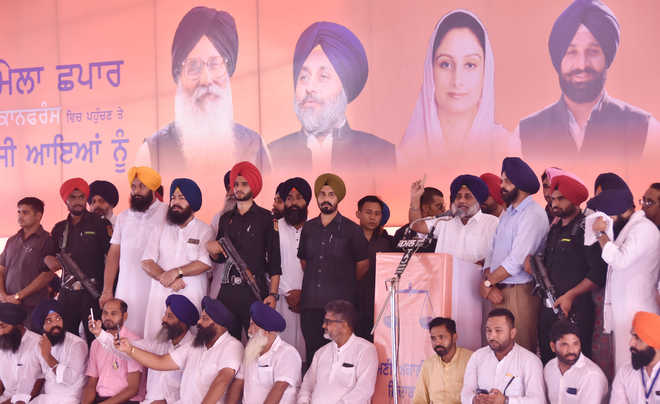 Tribune News Service
Chandigarh, September 17
Bharatiya Janata Party's ally Shiromani Akali Dal has said that regional languages were "inalienable part" of India's federal structure—a development that comes at a time when a debate rages on about making Hindi India's national language.
SAD, whose core committee met on Tuesday, passed has a resolution to promote Punjabi, which forms "proud part of the great cultural heritage bequeathed to the people of this region by the great Guru Sahiban", a press statement said on Tuesday.
"The party firmly believes that throughout the country the regional languages serve as inalienable symbol of the rich multi-cultural character of our federal and democratic polity," the press release said.
The resolution was one of two passed at the meeting: the second one was to urge the central government under the BJP to immediately release all Sikh prisoners who were still in jail despite having served their sentences.
SAD's statement about India's federalism and regional languages comes at a time BJP's national president Amit Shah's recent statement about making Hindi has kicked up a storm. In statements that came on 'Hindi Diwas', Shah, also the country's Home Minister, said although diversity in languages was India's strength, it needed one language to "unite" the country—Hindi.
The remarks have drawn strong opposition from the south, which has said imposing Hindi would go against India's federal structure. Opposition parties have also criticised Shah for his remarks, and cautioned BJP to tread carefully.
The remarks did not go down well even within BJP's own quarters: Karnataka Chief Minister BS Yediyurappa said in a tweet on Monday: "All official languages in our country are equal. However, as far as Karnataka is concerned, Kannada is the principal language. We will never compromise its importance and are committed to promote Kannada and our state's culture".
India has 22 official languages and no national language. The country's official languages are listed in the Eight Schedule of the Constitution.
Top News
Five-judge Constitution Bench of CJI DY Chandrachud will del...
Work of Pak intelligence; those who amplify such fake news d...
Chhattisgarh state BJP chief Arun Sao and Kawardha MLA likel...
Meeting is being held in the backdrop of the Congress' poor ...
Mayawati makes the announcement at party meet in Lucknow