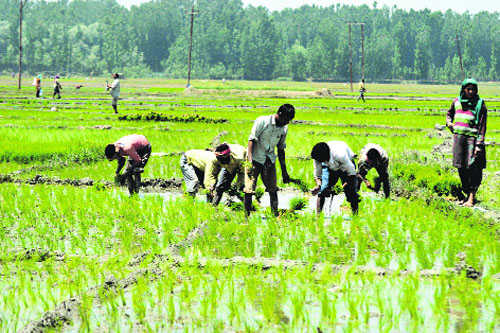 Vishav Bharti
Tribune News Service
Chandigarh, July 4
While the Punjab Government dithers on providing debt relief to landless labourers, a new report suggests the number of suicides committed by landless agricultural labourers due to debt is much higher than those by farmers in the state.
The "census report" commissioned by the Punjab Government on rural suicides takes into account incidences between 2010 and 2016 in seven districts of the state. The report prepared by Punjabi University, Patiala, is based on a field survey of Faridkot, Fatehgarh Sahib, Hoshiarpur, Patiala, Rupnagar, SAS Nagar and Muktsar districts. Guru Nanak Dev University, Amritsar, and Punjab Agricultural University, Ludhiana, are preparing another report on the remaining districts.
Follow The Tribune on Facebook; and Twitter @thetribunechd
The report suggests 737 cases of suicides — 397 (53.87 per cent) by landless agricultural labourers and 340 (46.13 per cent) by farmers — were reported in these seven districts. Most of the victims belonged to the younger and middle-age groups.
In an earlier report of the same districts, landless agricultural labourers accounted for 46 per cent of the total rural suicides between 2000 and 2009.
The latest report indicates an almost 8 per cent rise in the number of suicides by landless farm labourers. Of these, 88.38 per cent suicides were due to debt and 11.62 because of other reasons.
Experts say different studies over the past decade point towards a crisis involving landless farm labourers but successive governments have failed to take note.
"In 2007, we had submitted a report on the status of local farm labourers. It pointed out that 70 per cent of the labourers were in debt.
But those findings were never used in policy formulation. Had the government acted timely, several lives could have been saved," says Prof Lakhwinder Singh, head, economics, Punjabi University, Patiala, who is one of the authors of the report.
The other authors are Sukhwinder Singh, Kesar Singh Bhangoo and Jaswinder Singh Brar.
Landless labour bodies, which are not as influential as farmer unions, feel the government only wants Dalit vote. "Even after all these surveys and reports, we have to tell successive governments that we are also dying, we are also in debt. But nobody listens," says Lachhman Sewewala, general secretary of the Punjab Khet Mazdoor Union.
Last month, Chief Minister Capt Amarinder Singh had announced "waiver of entire crop loans of 8.75 lakh small and marginal farmers" but when it came to landless farm labourers, he claimed his "government did not have record or information about the number of landless labourers or with regard to their outstanding debt". Later, he proposed the constitution of a five-member committee by the Speaker to look into the issues.
Top Stories