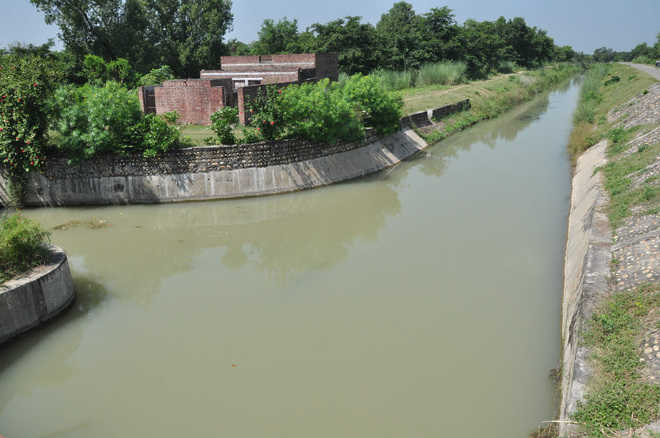 Aman Sood
Tribune News Service
Patiala, March 12
A retired chief engineer and some senior officers of the Irrigation Department are in the dock for allegedly making payments for works which were never carried out to embezzle funds worth Rs 8.5 crore. The matter relates to the Kandi Canal project.
An FIR has been registered and three senior officers have been arrested. The name of controversial contractor Gurinder Singh, who is already in custody, figures in the latest scam.
A Vigilance official said: "Prima facie various discrepancies have been found in the construction of the canal, including cost escalation by the officers concerned. The matter came to light during the interrogation of Gurinder Singh, who is believed to have benefited to the tune of Rs 50 crore."
"This is just the tip of the iceberg as the probe is still on. There are many cases where substandard material was used, while at many places payments were released even as no work was done," he said.
As per the FIR, to embezzle funds to the tune of Rs 8.5 crore, these officers passed an estimate for concrete lining of the canal in 2010-11. "To benefit the contractor and pocket funds, they sanctioned patch work inside the canal, while in reality no patch work was needed," said the officer.
He said the accused later showed patch works worth Rs 2.5 crore over and above the actual work that was approved. "They did not mention the RD numbers of the 18-km stretch where the patch work was completed and released payment to the contractor," he claimed, adding that any officer who raised objection was transferred.
The project to build around 130-km canal was divided in two stages: 60 km from Talwara to Hoshiarpur and 70 km from Hoshiarpur to Balachaur.
Insiders say the canal has failed to serve its purpose as most of its water goes waste forming marshes in some areas and causing seepage in houses situated close to it. Farmers have many times alleged that poor construction has led to massive leaking of water from the canal.
Earlier in the multi-crore irrigation scam, the Vigilance booked former Chief Engineer Harvinder Singh, Superintending Engineer DS Kohli, Executive Engineer IRS Walia, SDO Gursharan Singh, junior engineers Kamikkar Deol, Kulwant Singh and Jaswinder Singh.
"These officers connived with each other to benefit Gurinder Singh. The money trail in the scam will lead to many senior officers. An in-depth probe is needed," said a senior VB officer. Gurinder Singh and retired chief engineer Harvinder Singh have already been arrested.
---
Anomalies in Kandi canal project
As per the FIR, to embezzle funds to the tune of Rs 8.5 crore, the officers concerned passed an estimate for concrete lining of the kandi canal in 2010-11
To benefit the contractor and pocket funds, they sanctioned patch work inside the canal, while in reality no patch work was needed
The accused later added additional works worth Rs 2.5 crore. They did not mention the location where the patch work was completed and released payment to the contractor