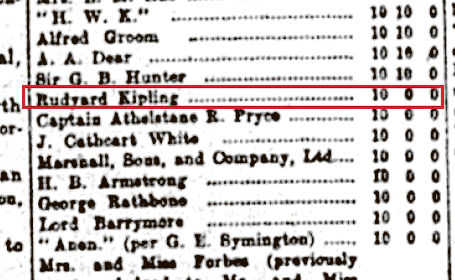 Sarika Sharma
Tribune News Service
Chandigarh, April 10
Renowned poet and novelist Rudyard Kipling hailed Butcher of Amritsar, General Reginald Dyer, as "the man who saved India". For years, it has been alleged that he also started a benefit fund for him. A British historian says he has finally found evidence against this hearsay.
On July 8, 1920, British right-wing newspaper 'Morning Post' (which later merged with the Telegraph) launched 'General Dyer Fund', which raised about £26,000, presented to Dyer on his return to Britain the same year. It is alleged that Kipling had started the fund, though there never has been any evidence of the same.
Kim Wagner, senior lecturer in British Imperial History at Queen Mary University of London, now says that Dyer was eulogised as the 'Saviour of Punjab' in the Anglo-Indian press in India in early 1920, but that had nothing to do with Kipling, and when the 'Morning Post' fund was launched, it was under the heading 'The Man Who Saved India'. However, he says Kipling had nothing to do with organising this fund. He did contribute to the fund on July 17, 1920. "He donated £10 (equivalent of £500 today), which should be seen in the context of donations ranging from anything between £1 and £50," says Wagner.
The 'Morning Post' had supported Dyer's action on the ground that he "did his duty, regardless of consequences". "On General Dyer's judgment, and his judgment alone, the future of the Punjab, and it may well be of India, was placed, and fearlessly he did his duty. His worst enemies cannot say that the result of his action was revolution; on the contrary, revolution gaining ground on every side was crushed," it wrote in the same issue.
The news item says that the men and women who have contributed to the fund have shown their approval of Dyer's action. It says these are people who lived in India and whose life experience has shown them the real question at issue and notes that joining them is "Rudyard Kipling, the poet of the Empire".
When Dyer was buried in 1927, Kipling sent a wreath with the inscription: "He did his duty as he saw it." Wagner says it is clear that Kipling was supportive of Dyer, but there is simply no evidence that he played an active role in defending and celebrating Dyer, as has been claimed.
Top News
The MLAs are expected to pass a resolution authorising the p...
Former PCC chief Kuldeep Singh Rathore, who won from Theog i...
BJP MP Kirodi Lal Meena moved for leave to introduce the Bil...
A bench of Justices MR Shah and CT Ravikumar said that only ...
Was interacting with the delegates at the fifth meeting of t...