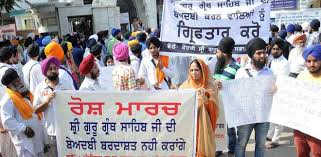 Ruchika M Khanna
Tribune News Service
Chandigarh, August 28
The Vidhan Sabha on Tuesday unanimously passed the Indian Penal Code (Punjab Amendment) Bill, 2018, and The Code of Criminal Procedure (Punjab Amendment) Bill, 2018, which seek 10 years' term to life imprisonment for those who commit sacrilege.
The two Bills were passed on the day the Justice Ranjit Singh (retd) Commission report on incidents of sacrilege was discussed. This report had pointed out that a majority of the incidents had remained unsolved.
The two Bills aim to enact Section 295-AA for imprisonment of 10 years (under IPC) and life term (under CrPC) for injuring, causing any damage or sacrilege to Guru Granth Sahib, Bhagavad Gita, Quran and Bible, with the intention to hurt religious sentiments.
Such offences will be cognisable and non-bailable. Presenting the Bills in the Vidhan Sabha, the Congress government said the move was necessitated by attempts in the recent past to disturb peace and communal harmony by committing sacrilege of holy books of all religions.
A Bill in this regard, introduced in the Assembly in March 2016, was withdrawn in May this year by the state government after the President refused to grant assent. The earlier Bill had prescribed life imprisonment for those who committed sacrilege of Guru Granth Sahib. Chief Minister Capt Amarinder Singh said the Central Government had returned the 2016 Bill, saying that it was against the secular tenets of the Constitution. "Thus, we have included all religions in the new section, and the law passed will be sent to the Government of India for approval," he added.
Participating in the debate, AAP MLA Aman Arora demanded that another amendment be made, stipulating that the trial should be completed within six months. Gurpartap Singh Wadala (SAD) said religion should not be politicised.
"Politicising religion could have adverse repercussions for Punjab. The Akali Dal is supporting the Bill, but people should get closure on this sensitive issue of sacrilege," he said. Bikram Singh Majithia (SAD), too, said his party supported the Bill, but stated that desecration of Guru Granth Sahib should be treated separately as the latter was regarded as a "living Guru".
Technical Education Minister Charanjit Singh Channi accused the Akali Dal of double standards on the matter, saying that the party had not opposed the Centre's decision to return the Bill.