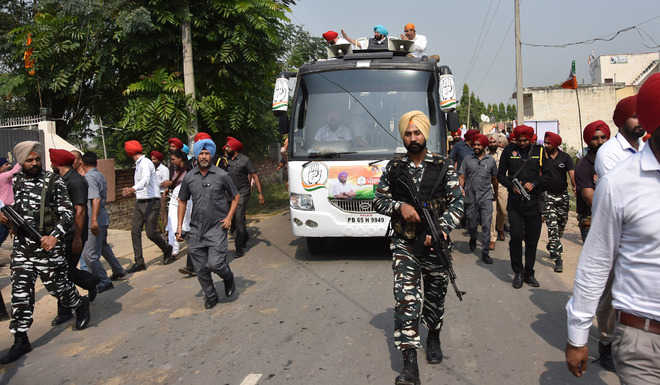 Tribune News Service
Chandigarh/Ludhiana, October 15
Giving impetus to the Congress campaign for October 21 bypoll, Chief Minister Capt Amarinder Singh today started his roadshows from the Dakha Assembly segment from where Capt Sandeep Sandhu, political secretary to the Chief Minister, is in the fray.
Facing heat from SAD candidate Manpreet Singh Ayali, who has been active in the constituency for long, Sandhu is hopeful that CM's roadshow would give him the much needed push to outdo his rival. The seat was previously represented by former AAP leader HS Phoolka.
Describing SAD as an "unprincipled party", he pointed out their "double standards" on ties with the BJP, against which they were fighting "tooth and nail" in Haryana on one hand, while on the other, seeking votes for its candidates in Punjab.
"This kind of petty politics has alienated the Akalis from the people and reduced them to a non-entity," he alleged, adding that given the current scenario, he did not see SAD and BJP being on one plank in the 2022 state Assembly elections.
Speaking in favour of Capt Sandhu, whom he described as a "committed worker with the welfare of the people close to his heart", the CM said the mood was in favour of the Congress as the people wanted development, which his government was delivering to them.
Accompanied by AICC general secretary Asha Kumari, Cabinet Ministers Sukh Sarkaria and Bharat Bhushan Ashu and Ludhiana MP Ravneet Bittu, along with several MLAs and party leaders from the area, the Chief Minister's convoy went through the crowded bazaars and areas of Allwal, Sidhwan Bet, Madarpura, Gorsian Makhan, Talwandi Kalan and Mullanpur city.
The Chief Minister would hold the roadshow in Jalalabad on Wednesday, where Raminder Amla is the party candidate, followed by Phagwara and Mukerian on October 17 and October 18.
LIP workers protest
Lok Insaaf Party workers staged a protest against the government when the roadshow passed through Chak Kalan village. They blamed the government for not taking action against the accused in sacrilege cases and failing to curb drug menace.
Freak mishap during roadshow
Capt Amarinder's turban accidentally fell after he came in contact with a rope during the roadshow. The CM along with Ludhiana MP Ravneet Singh Bittu and party candidate Sandeep Sandhu were on a special bus for election campaign. Bittu immediately gave a cover to the CM. To give height clearance to the CM on the elevated platform, no security personnel was by his side when the incident took place.