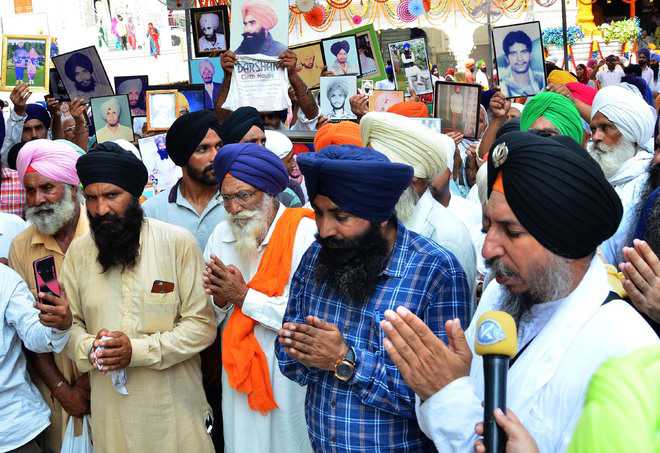 Tribune News Service
Amritsar, August 31
The Supreme Court will hear a PIL on September 2 related to mass cremation of 8,257 missing persons in Punjab, who were reportedly killed in fake encounters or were abducted by security forces during the militancy and counter insurgency period after 1984.
Satnam Singh Bains Barrister, one of the petitioners from Punjab Documentation and Advocacy Project (PDAP), a human rights organisation, claimed that in the petition, they had identified thousands of these missing persons and also mentioned the identity of those cremated illegally.
The investigations conducted by the PDAP have uncovered the secret mass cremation of over 8,527 victims between 1984 and 1995.
The families of several victims came together for an ardas at Akal Takht here today. A majority of the families have no official acknowledgment from the state regarding the fate of their loved ones.
Advocate Jagjit Singh Bajwa said, "The families will travel from all over Punjab to Delhi with a renewed hope for answers, justice and accountability in the light of recent conviction of police officers in the Mohali CBI court. This remains a vital issue for the children of the disappeared who have grown up without their fathers, struggling for two decades due to absence of even death certificates, which has deprived them of educational subsidies, their mothers of widow pension and in some cases hereditary right to land."
"The ardas highlighted the families' ongoing struggle for justice and recognition. It also highlighted their determination to pursue this legal battle to its logical conclusion," added Bajwa.
Top News
Cane growers will get Rs 391 per quintal, says Bhagwant Mann
Polling draws to a close | Counting of votes on Dec 3
The data showed Punjab had only four days in 2023 where fire...