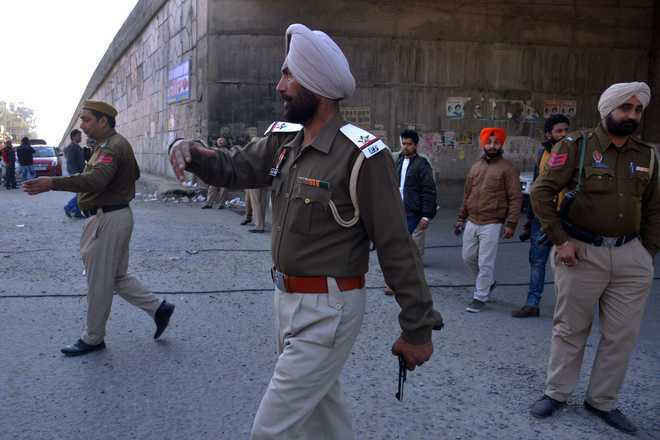 Ravi Dhaliwal
Tribune News Service
Gurdaspur/Pathankot, Oct 12
The Punjab Police on Saturday conducted searches in Madhopur, situated on the Pathankot-Jammu highway, and villages falling in the Dorangla, Dera Baba Nanak, Kalanaur and Bamiyal blocks.
Chiefs of the three police districts — Gurdaspur, Batala and Pathankot — conducted a nightlong hunt with Gurdaspur SSP Swarandeep Singh confining himself to Dorangla and Kalanaur. Pathankot SSP Deepal Hilori spent the night in highly sensitive Bamiyal while Batala chief Opinderjit Singh Ghuman held fort in the border villages of Dera Baba Nanak.
Intelligence officials kept a watch on the ICP near the Kartarpur corridor. The tent city coming up at the T-point on the Gurdaspur-Dera Baba Nanak road, from where the corridor branches off, was fortified by the Batala police. The ICP is a mere 2.5 km from this T-point.
Railway stations, tracks and bus stands were thoroughly searched. The police concentrated on verifying the credentials of tenants. In villages, the help of sarpanches and NGOs was sought and in cities that of municipal councillors. The highway town of Madhopur remained under siege. Vehicles on the road from Pathankot to Jammu were thoroughly searched.
On September 12, three men travelling in a truck and suspected to be militants were nabbed from Lakhanpur, a town near Madhopur.
Four AK-56 and two AK-47 rifles were seized from them. The truck was on its way to Kashmir from Bamiyal.
---
Corridor unveiling by PM on Nov 8: Harsimrat
Ludhiana: PM Narendra Modi will inaugurate the Kartarpur Corridor ICP on November 8, and attend a function organised by the SGPC, said Union Minister Harsimrat Kaur Badal here on Saturday. Home Minister Amit Shah was scheduled to attend the SGPC function on November 11, with the President presiding over the main function at Sultanpur Lodhi on Nov 12, she said.
Top Stories