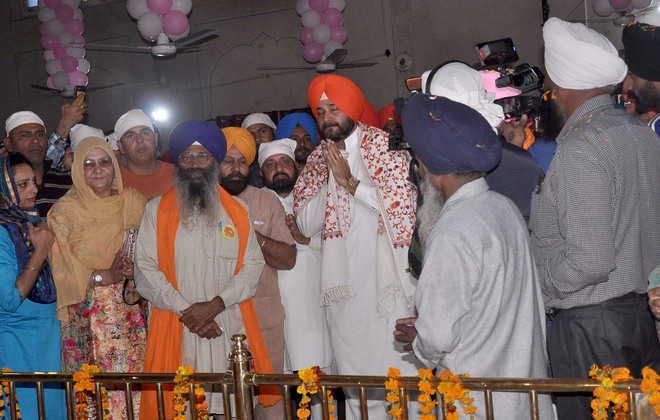 Amritsar, November 12
Skipping the state government's grand celebrations at Sultanpur Lodhi, former Cabinet Minister Navjot Singh Sidhu preferred to commemorate the 550th birth anniversary of Guru Nanak today with the residents of the East constituency, represented by him as a lawmaker.
After attending the Kartarpur gurdwara function from Pakistan side, this was Sidhu's first public appearance with his supporters here.
As his cavalcade reached his constituency, his supporters welcomed him declaring him to be the real "hero owing to his contribution in opening the corridor".
A huge garland weighing around 1.5 quintal was specially arranged to welcome Sidhu, who paid obeisance at Gurdwara Nanaksar located in the Verka area.
Earlier, his supporters had erected huge billboards in the holy city, giving credit to him whose association with his old-time cricket pal and Pakistan PM Imran Khan had helped in pushing the much-sought-after project. —TNS