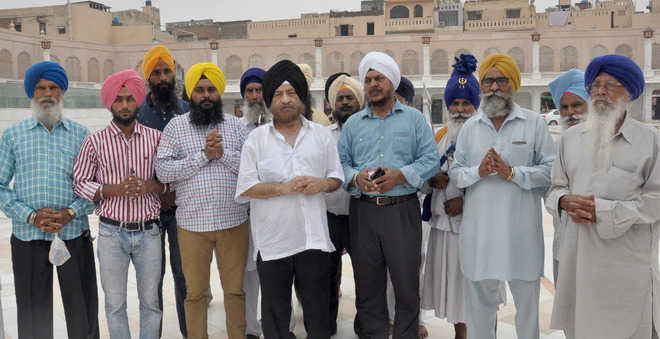 ibune News Service
Amritsar, July 26
Sikh activists under the banner of the All India Sikh Conference (AISC) again started the movement to reclaim Gurdwara Gyan Godri located on the banks of the Ganga at Har ki Pauri in Haridwar here today.
The activists performed ardas at Akal Takht before proceeding towards Haridwar today. Earlier in 2017, a joint move was initiated by the SGPC and DSGMC, following which the then Akal Takht Jathedar, Giani Gurbachan Singh, had appealed to the Sikh community to get united over reconstruction of this historic gurdwara that was demolished in 1979 by a mob.
Since then the Sikhs have been vying to restore the gurdwara. It is believed that Guru Nanak during his first Udasi (travel on foot) gave the Hindu Pundits a lesson on false rituals and idol worship.
The AISC has appealed to the Sikh community to unite once again to get the possession of the gurdwara.
Gurcharan Singh Babbar, head of the AISC, said, "Many Sikh organisations have shown solidarity with us for the cause, but shown resentment against the SGPC, DSGMC, Damdami Taksal and other prominent organisations which had launched a campaign under the tutelage of Akal Takht with much fanfare, but never took concrete step for its execution."