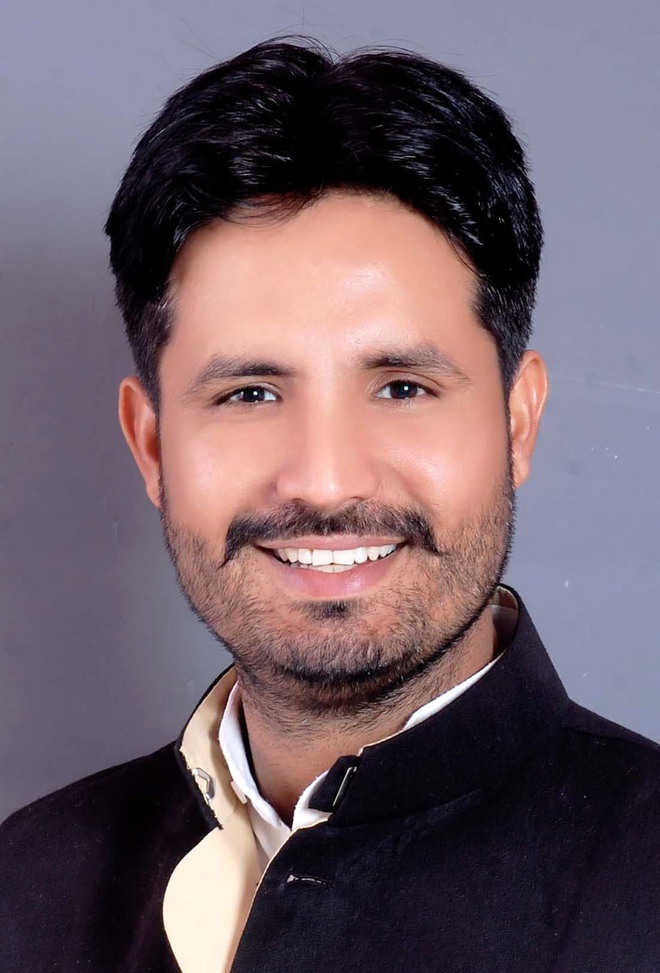 Jalandhar: A slip of tongue has become a common phenomenon in the ongoing Lok Sabha elections. Some recent political comments have been seen as defamatory and have invited the wrath of the Election Commission. In Jalandhar, the error in a recent speech of 82-year-old Akali candidate Charanjit Atwal made everyone think that perhaps age has started showing its effects on his alertness. Atwal had said he wanted to make Atal Behari Vajpayee as the country's PM. As when he said this, he did not even realise the error.
What's in a name? Ask Warring
Muktsar: What's in a name, ask Raja Sotha, aka Raja Brar, aka Raja Warring. Gidderbaha MLA Amrinder Singh, Congress nominee from Bathinda, who goes by the name of Raja Warring, was till a few years ago known as Raja Sotha. Sotha is the native village of his maternal family in Muktsar. After he lost his parents during childhood, his maternal uncles brought him up, thus he started using Sotha with his name. When he entered into politics, people advised him to use his own surname or village name, which is Warring. Thus he became Raja Warring. Sources close to him said he had once started writing his name as Raja Brar, the surname of his maternal family. "We used to call him Raja in his childhood as he is namesake of Capt Amarinder Singh and our family was always inspired by the latter. In the AICC headquarters, Warring is still known as Raja Brar," a close relative of the leader said.
Capt's rebuke works
Fatehgarh Sahib: The introduction of performance-based culture in the Congress following by Chief Minister Capt Amarinder Singh, who has said his ministers and MLAs would be responsible for the party's poll outcome in their respective constituencies. The diktat has yielded results so far as infighting is concerned. During the CM's rally ahead of filling of nomination by Congress candidate Dr Amar Singh, Amloh MLA Kaka Randeep Singh, considered a bête noire of the CM, and Amargarh MLA Surjit Singh Dhiman, who had been sulking over some issue, not only turned up at the rally, but also campaigned whole-heartedly for the party nominee. Party workers were seen talking that the threat seems to have worked.
Taking awareness to another level
Abohar: Contrary to the lacklustre political environment in the neighbouring Sriganganagar district, awareness campaigns under SVEEP are attracting a much higher number of people. On Saturday, weeklong "Vote Utsav" was launched in Sriganganagar and Hanumangarh. The colourful event, which aims at spreading awareness among the voters about the importance of voting, was widely attended by people from various walks of life. Thousands of lamps and candles were lit, several places were decorated with rangoli, while children gave dance performances, all this to motivate people to come out and elect the government of their choice.
'Naulakha Bagh' has much to say
Chandigarh: Punjab Public Relations Officer and former journalist Navdeep Singh Gill's book "Naulakha Bagh", is getting rave reviews. The book was recently unveiled by Punjabi Cultural Association of North Texas (PCANT) at Dallas. The Chairman of PCANT, Kuldeep Singh Dhillon, and former president Manjit Singh Johal dedicated this new creation to the public amid the presence of the author's father, Surjit Singh Gill. This is the fourth book written by Gill and contains the life sketches of prominent personalities hailing from Punjabi literary, cultural and journalism fields such as Ram Sarup Ankhi, Om Prakash Gaso, Prof Ravinder Bhatthal, Jagdev Singh Jassowal, Principal Sarwan Singh, Sidhu Damdami, Gurbhajan Gill, Shamsher Sandhu and Nirmal Jaura. His earlier books are centered around sports.
Contributed by Deepkamal Kaur, Archit Watts, Surinder Bhardwaj & Raj Sadosh
Top News
After taking oath as Bihar CM for eighth time, JDU supremo d...
BJP fields Sushil Modi, a long-time confidante of Nitish and...
Aviation Ministry had imposed lower and upper limits on dome...
New CJI will have a brief tenure of less than three months
A bench of Justices Surya Kant and J B Pardiwala also extend...