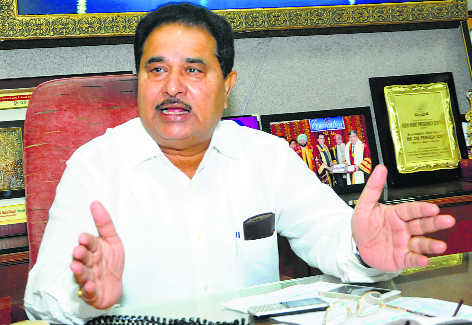 Sanjeev Singh Bariana
Tribune News Service
Chandigarh, June 15
Even as Navjot Singh Sidhu, former Local Bodies minister, is yet to take charge of his new portfolio of Power, another Punjab minister OP Soni, claim sources, has made it clear that he will not take over the Department of Medical Education and Research recently assigned to him. He claims he has been divested of the Education Ministry and sidelined "at the behest of bureaucracy" despite having put in a lot of hard work.
A senior Congress leader told The Tribune that Soni was extremely upset over his portfolio having been changed "owing to differences with top bureaucrats", pointing out that for the first time in 30 years, Class X and XII pass percentage in government schools had surpassed 85 per cent when he was Education Minister.
Talking to The Tribune, the minister said: "I have not yet taken charge of the new department allotted to me. I am pondering over the issue. I worked hard to rejuvenate a crippled Education Department. I cannot question the Chief Minister. He is our leader. But I spoke out my heart." It is learnt that prior to the Cabinet reshuffle, Soni had expressed his desire to be allotted Local Bodies.
Significantly, a day after he hinted at bureaucracy's role in the re-distribution of portfolios, the CM, who had set up eight consultative groups on state affairs, added a new one on "Revamping of Medical Education" under Soni.
Top Stories