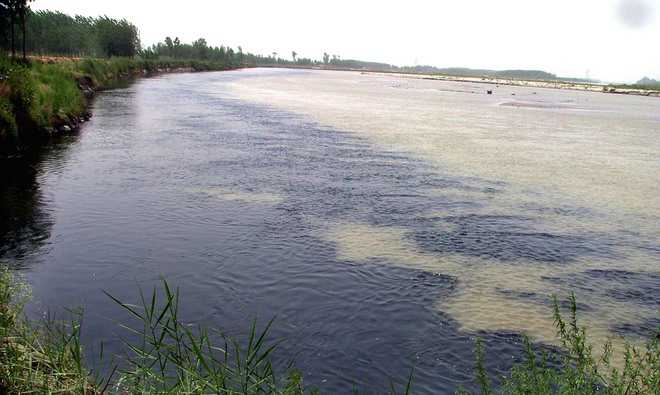 Aparna Banerji
Tribune News Service
Jalandhar, March 3
Three months after the National Green Tribunal (NGT) asked the Punjab Government to pay Rs 50 crore for polluting state rivers, the latter has failed to ensure the same. Besides, it hasn't even penalised the officials responsible for the huge discharge of toxic effluents into the Sutlej and Beas rivers.
In the aftermath of the Beas molasses spill, noting continued discharge of effluents in the state rivers, the NGT recently had also asked the state government to mark the erring officials' failure to act in their annual confidential reports. The NGT had stated in its previous order that the payment was to be ensured within two weeks.
The NGT also appointed Justice Pritam Pal, the head of the committee monitoring pollution in the Ghaggar river, the head of the monitoring panel looking into the pollution in the Sutlej and Beas.
With a majority of the officials of the regulating bodies themselves being members of the monitoring committee, sources said the state is reluctant to act against those causing river pollution.
The NGT had, in August last year, appointed environmentalist Balbir Singh Seechewal one of the members of the monitoring committee. He too conceded that officials of the PPCB (or the respective corporations responsible for running STPs to cleanse rivers) had failed to take any stringent measures. While the environmentalist in the recent hearing had expressed reservations regarding the report submitted to the government, he is also, ironically, one of the signatories of the same report.
Despite the NGT observing that the lack of action is leading to a water crisis in Punjab, the state government has also failed to ensure that the non-functional (33 of the 34) STPs — along the Buddha Nullah and Kala Sanghian drain — were made functional again. Sources said, "While the bureaucracy is keen to point fingers at the PPCB over the issue, the latter is merely a regulatory body. The fault lies with the local body. So far the government has not even listed the names of officials who are to be penalised for non-functional STPs and continued pollution in rivers."
Pawan Garg, member secretary, PPCB, said, "An action plan is being prepared on pollution is these rivers. Reports have to come in from various departments so it will take some time." A Venu Prasad, Principal Secretary, Local Government, said, "We have formed task forces to ensure cleaning of the Buddha Nullah and are also establishing new STPs at several places." He said the department was working on penalising officials.