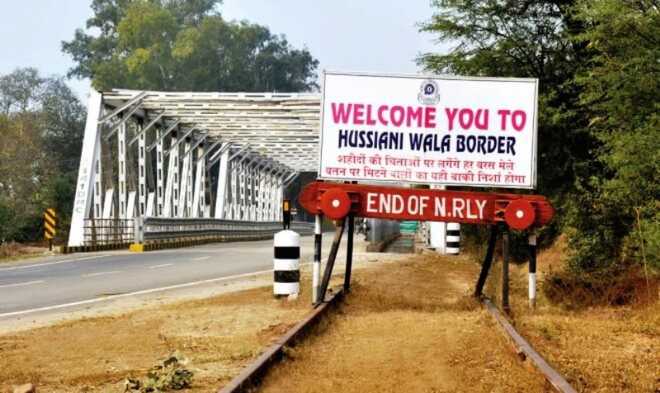 Anirudh Gupta
Ferozepur, January 15
Now razed, the Hussainiwala railway station, which once served as the "Gateway to Lahore", comes to life for two days in a year.
The rail track along the station, which saw the first train chugging between Ferozepur and Kasur (now in Pakistan) on its way to Peshawar in 1885, is used on Shaheedi Diwas and Baisakhi, when the Northern Railway run a special diesel multiple unit (DMU) to ferry people to the "Samadhi Sthal".
The now-defunct Ferozepur-Hussainiwala rail track was once a hub of trade and military activities.
Hundreds of people from towns like Kasur, Lahore and Ferozepur used to disembark here to work in the mechanical engineering workshop of the drainage department which was situated just across this station.
This track also saw the first run of the Punjab Mail that still links Ferozepur with Mumbai.
Most British troops and businessmen would arrive in Mumbai and make their way to their destinations by rail. This rail line was created for their convenience so they could travel directly to Kasur, Lahore, Ferozepur and Peshawar. Sources in the Railways said this rail track crossed the Sutlej over 13 round pillars — all of them intact even today — and a double-decker bridge called "Empress Bridge". All that remains of this bridge today are the two towers on each side of the Sutlej.
The place witnessed several pitched battles between India and Pakistan. "It is unfortunate that due to the vagaries of time and in the absence of care, the historic station has lost its existence," said Resham Singh of Hussainiwala village, who has been witness to the era when this station used to be abuzz with life.
Resham demanded that the railway authorities should redevelop this heritage station.
Top News
The formal announcement will be made after a meeting being h...
He had called the December 6 meeting of the bloc after the p...
Indian National Developmental Inclusive Alliance was announc...
The former Madhya Pradesh CM is likely to put in his papers ...
Incident takes place in Shyam Nagar area