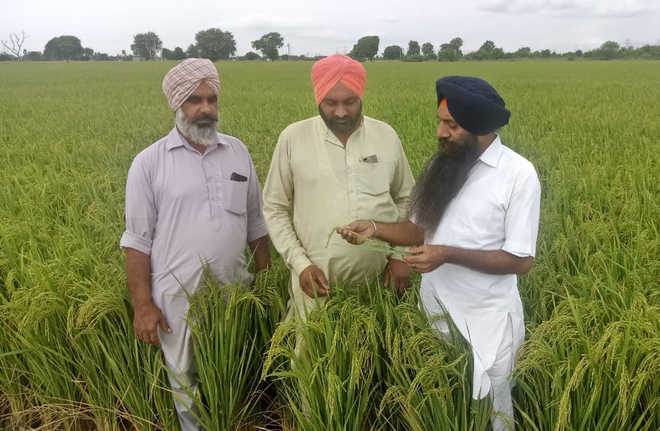 Kulwinder Sandhu
Tribune News Service
Moga, October 9
The Agriculture Department has appealed to the farmers to prepare their own paddy seeds for the next season instead of buying it from outside agencies.
Plant Protection Officer Dr Jaswinder Singh Brar said it was high time for the farmers to select the finest grains during the current harvesting season and store it as seeds for the next cropping season.
Dr Brar is going from village to village these days to educate the farmers on selecting quality grains from their produce for use as seeds. He is also training them on scientific storage of the seeds.
He said, "the timing of harvesting is crucial for producing quality seeds. The paddy crop from a good quality plot should be harvested separately to prepare good seeds for better yield."
Adding that the crop must be harvested at optimum maturity with less humidity content in the grains, he said early harvesting raises the humidity content in grains while late harvesting raises the chances of fungus attack. Therefore, harvesting the crop for seed purpose should be done at the right time.
At Tarewala village, early this week, he asked the farmers to choose the best quality of crop from their plots and remove weeds and disease-affected plants before going for harvesting to prepare the seed.
On proper storage, Dr Brar said the harvested seeds should be sorted out properly and dried in sunshine to bring down the moisture content under 12 per cent to avoid fungus attack, better storage and germination.
Chief Agriculture Officer of Moga Dr Balwinder Singh said the farmers should also remove the broken and damaged seeds before storage. They should treat the seeds with an insecticide and store it in airtight containers or new gunny bags. The seeds should be kept in a cool place, away from direct light and humidity, he added.