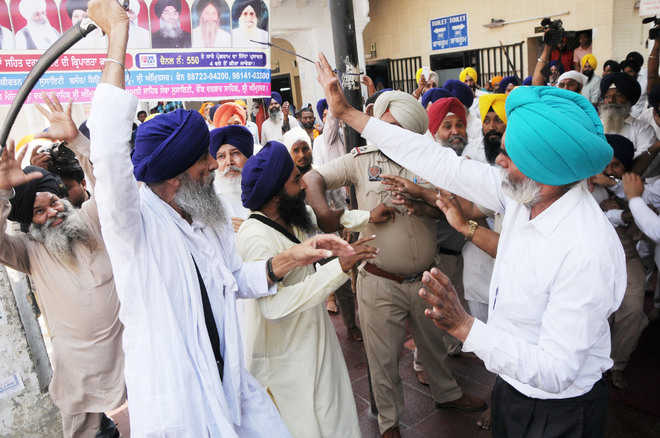 GS Paul
Tribune News Service
Amritsar, October 12
Panic gripped devotees at the Golden Temple today when rival Sikh groups brandishing swords clashed at the entrance of the shrine complex, leaving several injured.
The clash occurred between the SGPC task force members and radical Sikhs as the latter tried to head towards the Akal Takht. The verbal duel turned ugly and soon it was free-for-all in the presence of police personnel.
(Follow The Tribune on Facebook; and Twitter @thetribunechd)
The SGPC task force pushed president of the managing committee of Chhota Ghallughara Gurdwara, Qadian, Master Johar Singh out of the complex. He was there to appear before "parallel" Jathedars of the Takht to clarify his stance on the ruckus witnessed at the Qadian gurdwara in August after some devotees caught management panel member Boota Singh in an objectionable position with a woman there.
As Master Johar Singh was being dragged out of the shrine complex, "parallel" Jathedars, led by "acting Akal Takht Jathedar Dhyan Singh Mand", reached there and tried to gain entry. While their attempt was blocked by the SGPC task force, a violent fight broke out between sword-wielding supporters of the two sides.
Timely intervention by the police helped defuse the situation, but not before SGPC task force staffer Amrik Singh, additional secretary Vijay Singh and radical Sikhs — Satnam Singh Manawa and SAD (Amritsar) general secretary Jarnail Singh Sakhira — had suffered injuries on their hands.
Mand held SGPC chief secretary and manager of the Golden Temple responsible for the incident. Later, they submitted a complaint to the police demanding slapping of attempt-to-murder charges against SGPC men who blocked their entry into the shrine. "We were not allowed to enter the Akal Takht on the directions of the SGPC chief. This led to a bloody clash. We were elected by the Sikh Panth at 2015 Sarbat Khalsa in Chabba. The Panth had already rejected 'sarkari' Jathedars occupying takht seats. We urge the administration to take a stern action against the SGPC committee chief and manager," he said. Master Johar Singh claimed he was pushed out of the Akal Takht.
SGPC secretary Dr Roop Singh, however, said the unfortunate incident vitiated the atmosphere at the shrine. He said two SGPC task force staffers — Amrik Singh and additional secretary Vijay Singh — had been admitted to the hospital with serious injuries. He demanded the registration of a case against supporters of parallel jathedars. "Everybody is welcome to pay obeisance at the shrine, but no one can be allowed to violate the 'maryada' and create panic. Politically motivated, they were bent on creating chaos at the Akal Takht, which could not be allowed. We had no objection over whatever they do outside the complex," he said.