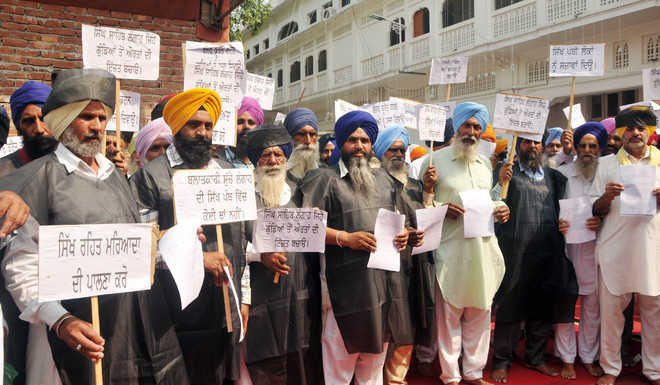 GS Paul
Tribune News Service
Amritsar, October 18
Dedicated to 550th birth anniversary of Guru Nanak Dev, the Akal Takht is contemplating to relieve Sikh individuals, who were either excommunicated or awarded any religious punishment for their alleged indulgence in 'kurahat' (activity or conduct one should avoid). The five high priests' meeting is scheduled on October 21.
However, ahead of this proposal, protests were lodged with the Akal Takht.
Former SAD leader Sucha Singh Langah and CKD former president Charanjit Singh Chadha, who faced ex-communication and debarred from holding religious stage for two years, respectively, were reportedly among those who had approached the Akal Takht to review the punishment pronounced upon them as they claimed to have been absolved of charges levelled against them.
Several Sikh activists in black attires, carrying banners with slogans, today lodged their protest against proposal for Langah's pardon. They submitted a memorandum addressed to officiating Jathedar Giani Harpreet Singh.
Langah was excommunicated after a video surfaced in which "he was seen in a compromising position with a woman in 2017." He was later acquitted by a court.
Similarly, Chadha's sleazy video also went viral following which Akal Takht had on January 23, 2018 prohibited him from taking part in any religious and political function for two years. Chadha had submitted a letter dated October 12, 2019, stating that he should be absolved of this punishment as he had already submitted apology and initiated ' amrit sanchar' at Akal Takht on February 3, 2019. Another letter against forgiving him has also been received at Akal Takht.
Besides Langah and Chadha, Gurdaspur's Buta Singh and Rajasthan's Hakam Singh of Budha Johar had also pleaded for absolution. Sources said that there was a list of around 18 Sikhs who were either excommunicated or faced religious punishment.
Akal Takht Jathedar Giani Harpreet Singh clarified that the cases of only those who had committed mistakes in their individual capacity could be re-assessed by the five high priests. He emphasised that the cases of anti-Sikh sects' heads or those who were excommunicated during 'Guru's period' could never be re-evaluated.