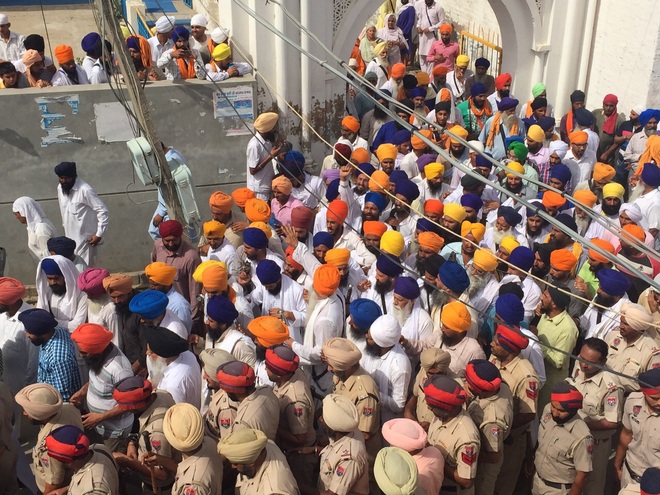 Tribune News Service
Faridkot, June 11
A protest over alleged police action into the theft of a "bir" of Guru Granth Sahib from a gurdwara at Burj Jawahar Singh Wala village of Faridkot created tension in the area today.
Activists of Sikh groups gathered in the village and started a protest march. With hundreds of their supporters, Sant Samaj leader Baljeet Singh Daduwal, Damdami Taksal (Ajnala) chief Amrik Singh Ajnala and heads other Sikh religious groups assembled at the gurdwara at Burj Jawahar Singh Wala this morning.
They accused the police of failing to trace the holy book and nab the culprits even a week after the theft.
The protesters announced to gherao the SSP and DC's office to register their protest. A heavy police force was deployed on the road to prevent them from moving ahead.
The "bir" was allegedly stolen on June 1 afternoon when the granthi of the gurdwara went to a neighbouring village. An FIR was registered against unknown persons.
On June 5, many religious Sikh leaders including Daduwal reached village and gave an ultimatum to the police to trace the "bir" or they would start an agitation.
Charanjit Sharma, SSP, Faridkot, said in the last one week, they had searched every house in Buraj Jawahar village. Besides, a 4-acre pond in the village was emptied to rule out dumping of the holy book into the water body, he said.
The SSP said some adjoining villages of Moga and Bathinda districts were also searched and the police were on high alert. "We have now constituted a special investigation team (SIT) for this task," he said.