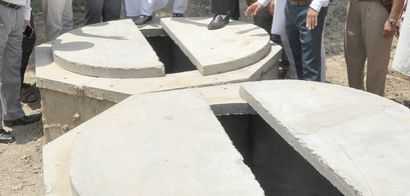 Paul
Tribune News Service
Amritsar, June 17
A state-of-the-art water recharging and recycling system has been made operational on the premises of the Golden Temple.
Named as 'Rainwater Harvesting and Recharging Mechanism', the project has been set up by the Punjab Pollution Control Board (PPCB) through Jalandhar-based firm Varun Mitra-Friends of Water.
Under the project, three recharging channels have been set up to recycle and recharge the 'sarovar' water that was being used to clean the 'parkarma' and the causeway leading to the sanctum sanctorum. PPCB chairman Kahan Singh Pannu on Monday directed the firm to extend the project to channelise the water being used for ablution process at the 'charan ganga' (small pool of water where devotees wash their feet before entering the shrine).
SGPC staffers and volunteers draw water from the sarovar twice a day to clean the causeway or bridge that leads to the sanctum sanctorum, which is 202 feet in length and 21 feet in width. The same procedure is adopted to clean the 13-foot parikrama that runs around the shrine.
While inaugurating the project, Pannu, also the director of the Tandrust Punjab Mission, said the old water recharging system in the Golden Temple complex had become redundant and hence a more effective system was made operational now. The treated water would be recycled for multiple uses and would help recharge the underground water table and decrease the pressure on sewerage of the city. "The problem with the sarovar water was that it contained human hair and other dust particles that used to jam the channel. Now, this new system will pave a smooth passage for water to enter into the recharging channels," he said.
Top News
Odisha government has issued helpline 06782-262286. The rail...
At least 50 people died and 350 were injured in a three-way ...
12837 Howrah-Puri Superfast Express, 12863 Howrah-Bengaluru ...
WFI chief demanded sexual favours in lieu of supplements and...
Said agitation will be intensified by holding panchayats acr...