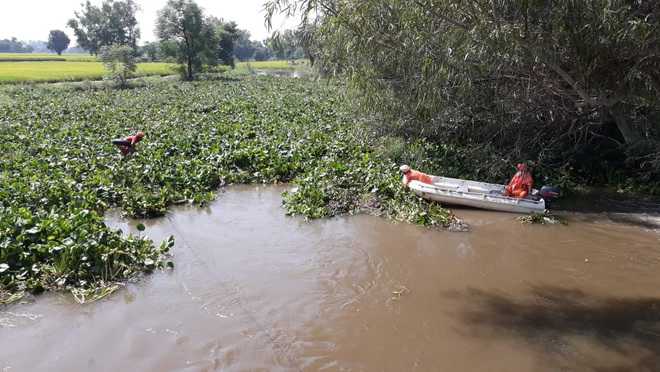 Aparna Banerji
Tribune News Service
Jalandhar, October 7
With only a month to go for the 550th Gurpurb celebrations at Sultanpur Lodhi, dumping of effluents continue intothe Kali Bein even as it readies to host lakhs of devotees.
Meanwhile, unable to rid the Bein of effluents at such a short notice, the state government is now planning to adopt other options. The flow of water into the Bein shall be increased from 250 cusecs to 400 cusecs apparently in a bid to drain out polluted water and sodium oxychloride is being put at the Kapurthala STP to decrease the level of E-coli and B-coli in the untreated water which is going out of the STP and mixing into the Kali Bein near the STP.
Effluents from Bholath sewage wastes, Bhalane Di Colony and untreated water from the Kapurthala sewage treatment plant continue to flow into the Bein. While the issue has been highlighted time and again by activists and environmentalist Balbir Singh Seechewal, the administration has not been able to control the effluent flow.
DPS Kharbanda, DC, Kapurthala, said, "The quantum of fresh water being released into the Bein shall soon be increased to 400 cusecs. Until now it was 250 cusecs. That will drain out much of the polluted water. The Kali Bein will also be cleaned of all water hyacinth ahead of the 550th Parkash Utsav celebrations. Additionally, after my recent visit to the STP, we have also treated the water with sodium oxychloride which will reduce the extent of E-coli and B-coli in the water. All steps are being taken to ensure a clean Bein ahead of the celebrations."
MLA Navtej Singh Cheema said, "The release of 400 cusecs fresh water into the Bein will significantly counter the effects of the pollutants. As far as industrial effluents into the Bein are concerned, treating them is a task which will take a longer time. Presently, all steps are being taken to ensure a cleaner Bein for the celebrations."