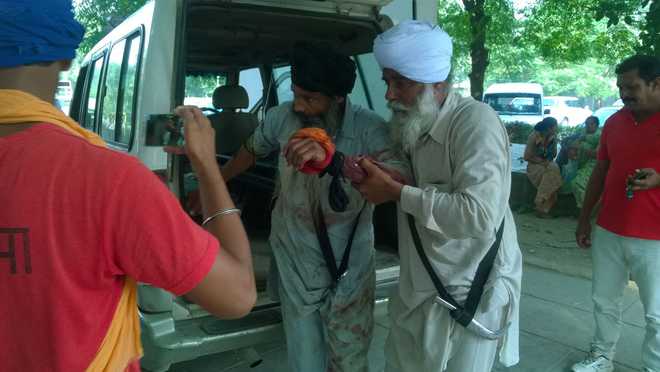 Tribune News Service
Kotkapura (Faridkot)/Chandigarh, October 14
Tension over the incident of destruction of a 'Bir' flared up in the Kotkapura area on Wednesday morning after the police and Sikh protesters exchanged fire, in which two persons were killed and more than 50 people, including 24 policemen, injured.
Two protesters were killed in police firing at a blockage and protest dharna at Behbal Kalan in Faridkot.
Following Wednesday's violence, Chief Minister Parkash Singh Badal in the evening ordered the inquiry by a high court judge to probe the desecration and the incidents of violence in its aftermath.
Bathinda range IG Jatinder Jain was also injured during the clash. The police have rounded up two Sikh leaders Panthpreet Singh and Ranjit Singh Dhadruanwala.
At least 6,000 protesters had gathered, demanding action against those responsible for the incident of sacrilege at Bargari village in Faridkot disctrict. Some of the protesters started pelting stones, and were asked to disperse by the police.
As they did not pay heed, the police mounted a cane charge, used water cannons and even fired in the air to break up the gathering. The police also detained around 500 protesters.
The police confirmed two deaths at Behbal Kalan village. The Faridkot Senior Superintendent of Police (SSP) said the police acted in self-defence as the protesters attacked the police with stones. In view of the prevailing tension and a bandh call given by some Sikh organisations, Faridkot Bar Association announced to suspended work to avoid any inconvenience to litigants and advocates coming from other places.
All schools have been closed in the area. A heavy police deployment has been made on all roads and bazaars of Kotkapura and the area near the protest site has been sealed.
Protesters also blocked the Moga-Ferozepur national highway at Dagru village, and the Moga-Kotkapura highway at Samalsar and Rode villages.
Sikh protesters had pitched their tents in Kotkapura town since Monday to protest against the alleged desecration of a 'bir' of Guru Granth Sahib in Bargari village.
A "bir" was allegedly stolen earlier from a gurdwara at Burj Jawahar Singh Wala village of Faridkot on June 1.
Over 100 pages of the Sikh holy book were found scattered in a street near a gurdwara on Monday.
Condemning the incident and the violence, Chief Minister Parkash Singh Badal said "exemplary punishment would be given to the perpetrators of this dastardly act".
In a statement issued at Chandigarh, Badal said: "The desecration of Sri Guru Granth Sahib is a deep-rooted conspiracy aimed at inciting communal tension and destabilising the hard-won peace in Punjab. I appeal to the people to be vigilant against such elements and keep calm despite grave provocation."
Badal directed Punjab Police chief Sumedh Singh Saini to constitute a special investigation team under additional director general of police (crime) IPS Sahota and two deputy inspectors general RS Khattra and Amar Singh Chahal to track down the culprits.
Congress Deputy Leader in the Lok Sabha and former chief minister Amarinder Singh on Wednesday strongly condemned the deaths of two people in alleged police firing near Kotkapura.
"Chief Minister Parkash Singh Badal has virtually lost control over things and the state is drifting towards anarchy," Amarinder said. —With IANS inputs
Top News
Action taken under relevant Section of Unlawful Activities (...
Says wants it to commit constructively to establish facts
Blinken says it is 'important for India to work with the Can...
Adhir Ranjan Chowdhury, the Congress leader in Lok Sabha, sk...