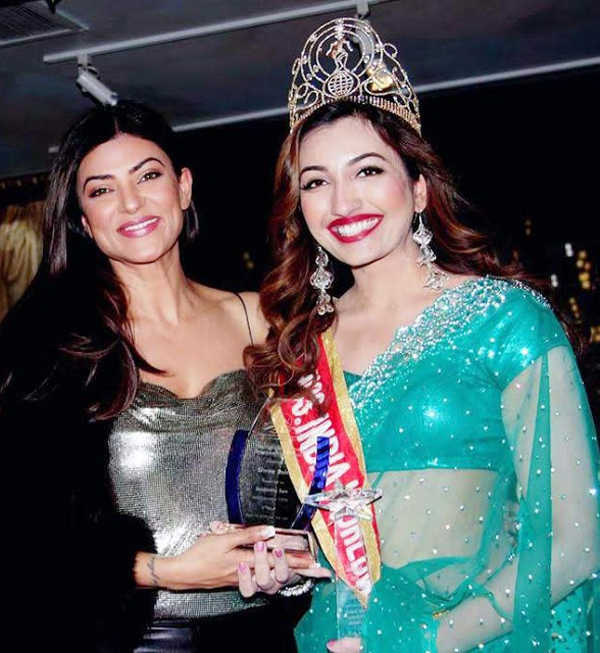 Ropar: Politicians are leaving no stone unturned to remain in the limelight in the run-up to the Lok Sabha elections, even if it involves shedding some ego. Two local politicians, including a parliamentary poll candidate, turned up uninvited at a blood donation camp organised on March 23 to mark the martyrdom day of Bhagat Singh, Rajguru and Sukhdev at Bela Chowk here. The organisers, District Youth Clubs Coordination Committee, had invited the mother of Pulwama martyr Kulwinder Singh and the wife of another martyr from Ropar Jagtar Singh, who was also killed in Kashmir, to preside over as chief guests. Ironically, the 'netas' featured in all print media reports the next day while the pictures of the martyrs' kin were missing. The organisers were left venting their ire on social media, but the 'netas' had succeeded in their mission.
'Women Hero' honoured by favourite star
Abohar: Punjab-born Miss India Worldwide Shree Saini was a big fan of actress Sushmita Sen, but she had never though she would get an opportunity to share the stage with her favourite star. Shree's dream came true in New York City recently as Sushmita honoured her with "Women Hero" award at the South Asian Women Empowerment Gala for her non-profit work. The citation presented to Shree recognised her service to the community, neighbours and families; and it was in recognition of her leadership and dedication towards enriching the lives of others. Overwhelmed by Sen's presence, Shree said: "Pageantry improves the lives and confidence of women throughout the world."
WhatsApp misadventure costs dear
Amritsar: A WhatsApp misadventure by a man attached with a religious outfit has cost him his job. A member of the Chief Khalsa Diwan (CKD), the man on Saturday posted obscene images and messages in a group WhatsApp, 'CKD Updates', which had 147 members. Not ready to tolerate the mischief, several members of the social media group soon approached CKD president Nirmal Singh, who too showed no mercy and promptly expelled the man from the primary membership of the organisation. Whether the posts were made inadvertently or purposely, the message from the CKD president was loud and clear — nothing anti-social on social media platform!
Rs 18 lakh unpaid bill in Dubai hospital
Dubai: A critically ill Punjabi, who was visiting his son in Dubai, has surging bills over lakhs in a Dubai hospital after he was diagnosed with lung infection, leading to a multi-organ failure, UAE media reported on Sunday. Surendra Nath Khanna, 66, was rushed to hospital after he complained of acute breathlessness on March 15, the next morning after he arrived in Dubai with his wife. His son Anubhav did not avail any travel or medical insurance for his parents and is currently shelling out over Rs 3 lakh every day on his father's treatment. He till now has unpaid bills mounting to over Rs 18 lakh. pti
'Third eye' to keep tabs on code violations
Muktsar: Flying squads moving from one place to another to check poll code violations will now get vehicles fitted with GPS, which will also have special pan-tilt-zoom cameras to keep track of violations. The Punjab Chief Electoral Officer has asked all District Election Officers to send official vehicles to a workshop in Mohali on March 25-26 to get the gadgets fitted. An Assistant Returning Officer, meanwhile, lamented the alleged casual approach of the Election Commission in providing infrastructure for flying squads. "One vehicle fitted with cameras is grossly inadequate. Breakdown or maintenance aspects haven't been considered. Moreover, the tariff for hiring vehicles hasn't been revised since 2012. the list is long," he rued.
Chennai award for Abohar historian
Abohar: Chennai-based Venus International Foundation has honoured Dr Rekha Sood Handa with "Distinguished Woman in Humanities and Social Sciences" award for her achievements in the field of history. She hails from Malsian village in Shahkot, Jalandhar. Before joining Gopichand Arya Mahila College as Principal last year, Rekha chaired the History Department at the DAV College here from 1995 to 2017. Having authored two history books, she has participated in various national and international events on the subject.