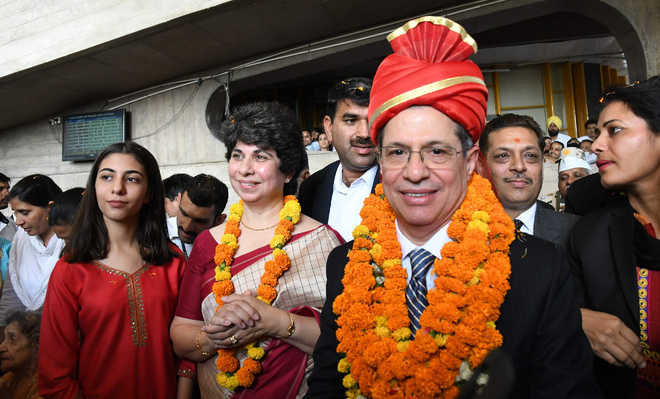 Tribune News Service
Chandigarh, May 3
Just over three years after he was transferred to the Punjab and Haryana High Court, Chief Justice Shiavax Jal Vazifdar was on Thursday given a floral send-off by the Bench, Bar and the employees after he retired upon attaining the age of superannuation.
At a short but impressive ceremony attended by sitting and retired high court judges, the outgoing Chief Justice was presented with a bouquet by Justice Surya Kant and mementos by former Andhra Pradesh High Court Chief Justice Manmohan Singh Liberhan, former Allahabad High Court Chief Justice SS Sodhi and Justice AK Mittal.
Lined up on the ramp overlooking the portico, hundreds of employees later showered rose and marigold petals on the outgoing Chief Justice. Reverberating beats of dhol filled the air as the employees placed a red turban on Chief Justice Vazifdar's head as he walked with folded hands amidst the jostling crowd to receive the guard of honour. The Chief Justice was then escorted to his official car before the judges gave customary gentle nudge to the vehicle as a farewell gesture.
When he took over as the Acting Chief Justice in December 2014, there was no way anyone could have guessed his constant endeavours would lead not just to greater transparency in the system, but also bring justice closer to the people.
Extremely conscientious about his work, Chief Justice Vazifdar was polite outside the courtroom, and hardly any different inside. His grace and graciousness earned him great respect and soon made him popular, both among the Bar and the Bench.
Exclusive courts were set up to deal with heinous crime against women during his tenure. A special commercial court, too, was established in Gurgaon. Efforts were also made to bring down the pendency of cases in the superior and subordinate courts.
In fact, annual action plans were formulated, and guidelines issued, for the subordinate judiciary for disposal of long-pending cases.