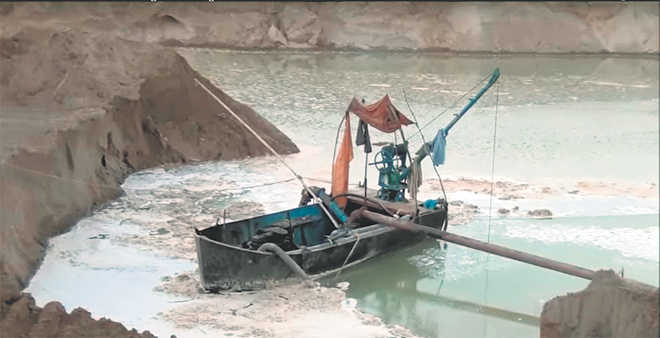 Balwant Garg
Tribune News Service
Faridkot, February 5
Illegal sand mining is touching new depths in Punjab, both figuratively and literally. After mining sand up to the permitted depth of around 10 feet, contractors in this area have now started using submersible pumps to extract sand from deep inside earth, leaving the surface open to ecological disaster, apart from causing huge loss of precious ground water.
Condition No. 46(a) of the agreement between the Department of Industries and Commerce, which auctions mines, and the bidders, lays down that mining can be done only to a depth of 3 metres in the plains, which is measured from the un-mined ground level.
Submersible pumps designed to suck up water are being used to extract sand mixed with the water from the sand-rich layers of the earth. One such site being exploited in violation of the Punjab Minor Minerals Rules, 2013, spotted by The Tribune is in an area of about 2.5 hectare in Dod village of Faridkot district.
The extraction technique causes a huge loss of ground water, which spreads out while leaving the heavy sand in huge mounds. With unrestricted pumping up of sand, massive hollows are created in the deep layers of earth, which can cave in any time, and expose the top layers to erosion. Apart from environmental disaster, it also poses a threat to life and property.
Contractors drill a new hole once sand supply from one bore is exhausted or the cavity becomes too large, thereby softening the ground. The particular land seen by The Tribune is owned by Daljit Singh, a former sarpanch of Dhilwan Khurd, a village adjoining Dod. His land has been auctioned for mining, for which he is to officially receive a compensation of Rs 1.54 lakh every three months.
While he claimed 2.5 hectare of his land was allotted to Hira Singh, a contractor from Kotkapura, as per record the land auctioned in the area is only 1.21 hectare for Rs 24.59 lakh. The contractor has even extended his illegal operation to adjoining land that falls in the neighbouring Sadhuwala village. The conditions for mining also mandate excavation time from 6 am to 7 pm in summer (April 1-September 30) and 7 am to 5 pm in winter (October 1-March 31). However, the operation on this site is carried on 24 hours a day, using mechanical dredgers and suction pumps.
While contractor Heera Singh did not respond to repeated phone calls, Mandeep Singh and Deepak Kumar, who identified themselves as caretakers for the contractor's work, denied there was any violation of rules. Baljinder Singh, mining inspector for the area, also refuted allegations of illegal mining, saying, "I have received no such complaint thus far, but will check now."
On how a small lake had been created in the mining area, in which the submersible pump is mounted on a boat-like contraption, Baljinder Singh claimed the water table there was high, which caused seepage once mining was done.
Condition No. 50 of the agreement also stipulates that excavation cannot be done at a level below the water table. The contract can be cancelled for violation of this rule. Gurjant Singh, General Manager-cum-Mining Officer, Faridkot, also did not respond to repeated phone calls. He is in charge of four districts: Faridkot, Fazilka, Moga and Ferozepur.
Hira Singh has been allowed to annually extract 10,279 tonnes of sand from Dod village. To ensure the limit is observed, the contract requires a weighing machine to be installed at the pit-head, and details of each measured vehicle have to be sent electronically to the mining officer. However, no such scale could be spotted in the area.
To get a high price for the sand, the contractor allegedly is also using political influence to get the traffic police to prevent trucks of sand from adjoining districts to sell in Faridkot. As the quality of surface sand in Faridkot is poor, people are forced to buy the sand extracted from deep. Dr Nanak Singh, SSP, Faridkot, said he would look into any illegal action of the traffic police.
Top News
AICC observers dub 92 MLAs' meet as 'indiscipline' | Sonia m...
Says R'sthan crisis all about dynastic politics
Won't make Article 370 a poll issue, he says