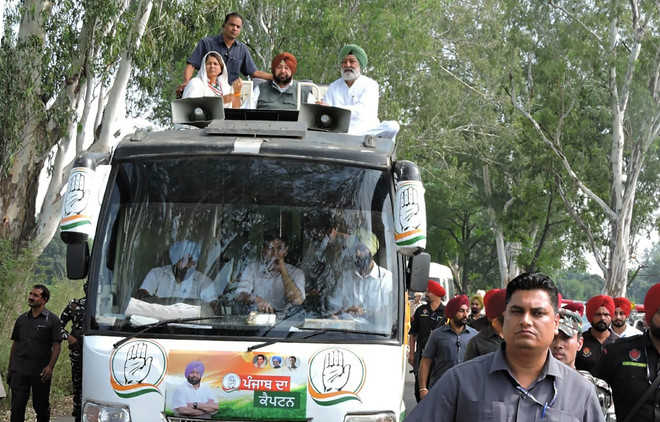 r Correspondent
Mukerian, October 19
Chief Minister Capt Amarinder Singh today said he had adopted the Mukerian constituency and it would be his responsibility to develop the area. Accompanied by Congress' Mukerian candidate Indu Bala and Tanda MLA Sangat Singh Giljian, he held a roadshow in Talwara, seeking support for Bala, wife of late MLA Rajneesh Babbi.
He said Babbi's father Kewal Krishan had served the area for more than four decades. Capt recalled the development work done by seven-time MLA Kewal Krishan, who had also served as a minister and Speaker during his previous term as the CM. He said MLA Rajneesh Babbi couldn't do much work due to his serious illness. Appealing to the people to vote for Indu Bala, he said Mukerian's development would start again at a fast pace as he himself would develop the area.
The CM ridiculed Sukhbir for stating that he was not accessible to people. He pointed to the surging crowd to counter the Akali leader's claims that his roadshows had received poor public response. "The entire Akali leadership is a spent force. Now, they have nothing but lies to give to the people," he said, adding that he was confident of Congress candidates' win in all four constituencies.
The roadshow, which began from Bhode Da Khooh, passed through Adda Gera, Adda Hajipur, Hajipur T-Point via Adda Roli, Santhwa, Chaudhary Da Bagh and other areas.