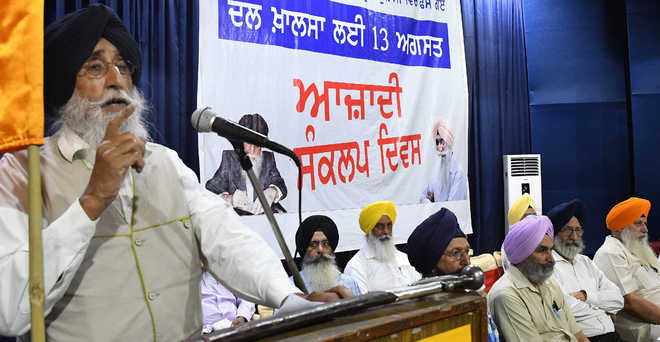 Tribune News Service
Chandigarh, August 13
On the occasion of its foundation day, the Dal Khalsa on Monday said it would strive for a peaceful, political and democratic struggle for a separate Sikh homeland. At the same time, the radical Sikh organisation paid homage to "militant" leaders, acknowledged the "contribution" of Pakistan-based Sikh leaders and boasted of support of Kashmiri separatist leader Syed Ali Shah Geelani.
Kanwarpal Singh, Dal Khalsa spokesperson, said the organisation had started its movement from Chandigarh 40 years ago and it was the only one to have continued struggle for justice to Sikhs for the 1984 riots and fake police encounters.
He distanced Dal Khalsa from Referendum 2020 saying though the aim and ideology of the two was common, the method to achieve it was different. "We represent people of Punjab and we are for a peaceful struggle, while they are just doing a survey and have no representation from Punjab". Other speakers included Harpal Cheema, Simranjit Singh Mann and Harcharanjit Singh Dhami.