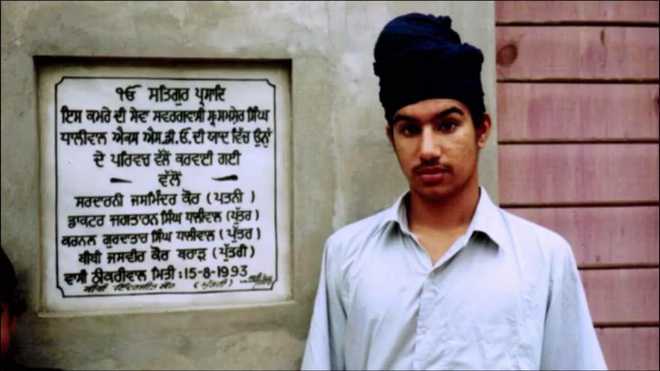 Vishav Bharti
Tribune News Service
Chandigarh, October 21
Will the 'village of resistance' get its second hero after almost a hundred years? That is the question Thikriwala stares at when the National Democratic Party leader Jagmeet Singh goes to the Canadian elections as prime ministerial candidate on October 21.
Founder of Praja Mandal (self-rule movement in princely states), martyr Sewa Singh Thikriwala and Jagmeet's great-grandfather Captain Hira Singh were cousins. Sewa Singh was put in jail on the fabricated charge of utensil theft by the rulers of the erstwhile Patiala princely state, where he died during a long hunger strike in 1935.
Located on the outskirts of Barnala town, Thikriwala has remained the epicentre of resistance movements for centuries, but for the past few days, the village is closely following the Canadian elections as one of its sons is in the fray for the top post. The streets are dotted with banners 'congratulating' Jagmeet for being in the fray for the post of Canadian Prime Minister. "We also oragnised a prayer in the village gurdwara on Saturday and collectively wished for his success in the upcoming elections," tells Nardev Aulakh, of village NGO Evergreen Society.
In his memoir 'Love & Courage: My Story of Family, Resilience, and Overcoming the Unexpected', Jagmeet traces his roots to the area. "My father Jagtararn Singh was born in Barnala in 1950,"
Though Jagmeet was born and brought up in Canada, the family has never lost touch with the village. The family is still holding ownership of the ancestral land and home.
Jagmeet visited the village only once. It was in 1993, when the family sponsored a room in the village government school in memory of his grandfather Shamsher Singh, who worked as an engineer in the Army. "People have fond memories of that visit of the family. He was just 14 at that time," says Balwant Singh Bhullar, a resident of the village.
Jagmeet recalled memory of that visit in his memoir that how his father found it difficult to find the family house on the outskirts of Barnala as it was suddenly surrounded by houses and business establishments since his father's last visit. "He had been looking for a farmhouse on the outskirts of the city, as he remembered it, but the city had long since enveloped the farmhouse. As we approached my grandparents' cute little house, my dad recited memories as they activated before his eyes, pointing out the places where he had played and studied, husked corn and learned to ride a bike."
Earlyin January this year, the relationship of the family with the village once again rejuvenated during the martyrdom day function of Sewa Singh, when Jagmeet sent Rs 50,000 for the village club. "We are in touch with Jagmeet as well as his younger brothers Gurratan Singh," says Nardev.