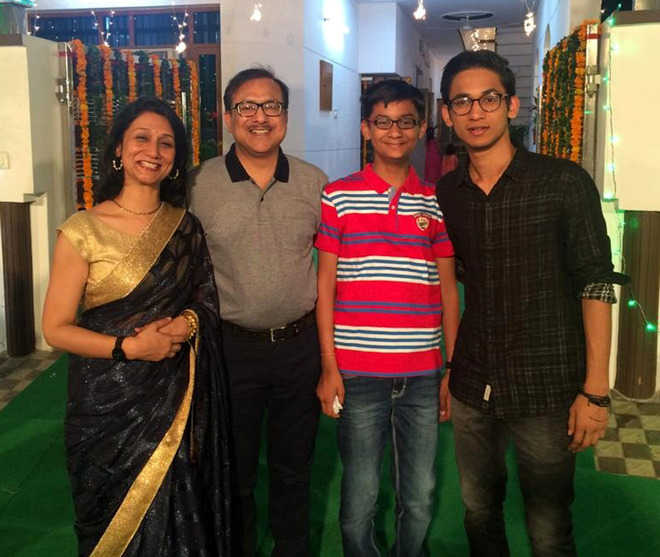 Archit Watts
Tribune News Service
Muktsar, May 7
Manhar Bansal today brought laurels to his home town by securing all-India top position in the ICSE Class X examination with 99.6 per cent marks.
Manhar belongs to a family of doctors, as his father, mother and brother are in the medical profession. He, however, doesn't want to tow the family line and has opted for humanities as he aims to become an IAS officer.
"At present he is a student of Delhi Public School, RK Puram, but Manhar always topped when he was studying at Little Flower Convent School here," said his father Dr Madan Mohan Bansal.
"I could not believe when I got the news that my son has got all-India second position, but when my elder son told me that Manhar has actually got first position in the country, I could not control my emotions. We also went to his school to thank the teachers. Manhar always dreamt of getting all-India first rank, but I used to tell him that second or third ranks are better because there is always a chance of improvement. He wants to crack UPSC exam and become an IAS officer," his father said.
He said Manhar was the head boy in the school here, topped quiz competition organised in the past by the ICSE at the zonal level and inter-state level and even participated in the North-India level. "He did self-studies as being doctors me and my wife remain busy with our work," he said.
His success has finally brought a smile to the faces of his family members, which was grief-stricken after the death of his father's younger brother Prof Raghbir Dyal Bansal, a senator of Panjab University, in January.
Aspires to be IAS
I am extremely happy. I had not expected such a good result. At present I am studying to crack CLAT. Though both my parents are doctors, after my graduation I want to clear the civil services and become an IAS officer. Manhar Bansal