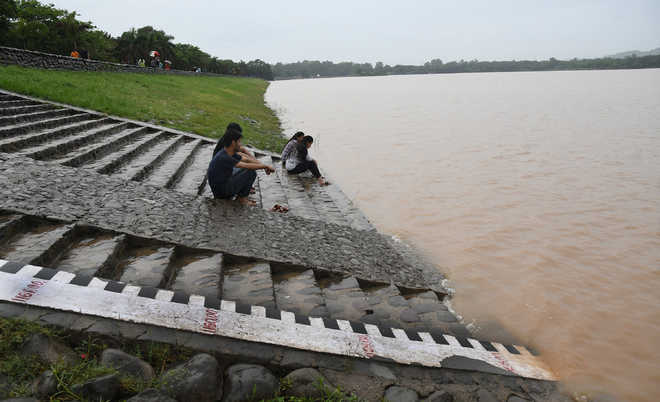 editorial@tribune.com
Tribune News Service
Chandigarh, July 14
Several sectors in the city faced waterlogging after heavy rain lashed the city today. Low-lying areas in the city such as the Industrial Area, Phase 1, Ram Darbar, Mani Majra and Hallo Majra were flooded with rainwater.
There were reports of damage to one more house at Faidan village. Houses situated in the vicinity of a nullah there have already been vacated by the Administration.
Several parking lots in markets were also waterlogged. Roads leading to the Industrial Area were also inundated. Commuters had a tough time as rainwater accumulated at the underbridge in Sector 15 as well as in the Industrial Area. Other areas which witnessed waterlogging included Kajheri, Sector 42, 43, 52, 53 and Sadar Bazar, Sector 19. Residents of several sectors faced outage due to the rain. The affected areas included Sector 21, 22, 23, 24, 26 and 27 where residents went without power for around three hours. Power supply was disrupted in Sarangpur and Behlana also.
Eight more trees were uprooted in various parts of the city due to the rain today. Around 15 trees were uprooted yesterday.
---
MC wakes up late to clean sewerage
While the city is facing waterlogging at several places, the MC has now issued tenders of over Rs 90 lakh for cleaning the sewerage in the city. The first spell of rain led to waterlogging in the city and the decision of the MC to issue the tenders now has raised many questions. The MC has given only a week for opening the tenders. RK Garg, a social activist, said the MC had delayed the process of floating tenders, which had resulted in waterlogging in several areas.
---
Sukhna water level up (1,157.50 ft)
Heavy rain during the past two weeks has brought some relief to Sukhna Lake, which has witnessed an increase in its water level. Sources said the water level of Sukhna Lake was 1,157.50 ft on Sunday. It was 1,155.95 ft last week. The water level of the lake was the highest at 1,163 ft in September 2018 when the Administration was forced to open the flood gates of the lake as the water level had crossed the danger mark.