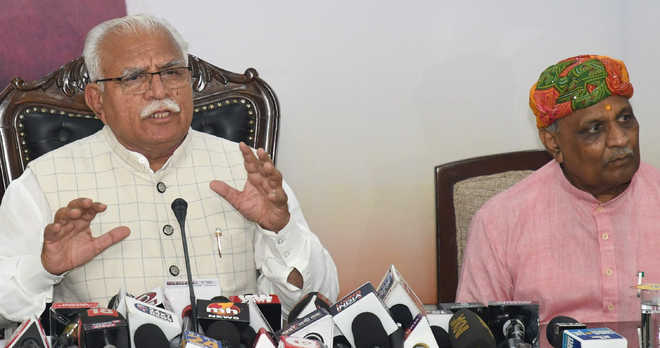 vinaymishra188@gmail.com
Tribune News Service
Chandigarh, September 11
Ahead of the model code of conduct for the Haryana Assembly elections, Chief Minister Manohar Lal Khattar today launched two insurance schemes for small and medium traders announced recently while going "populist" by announcing several schemes worth crores to woo various sections of society.
Making these announcements at a press conference here today, after launching the Mukhyamantri Vyapari Samuhik Niji Durghatna Beema Yojna (MVSNDBY) and the Mukhyamantri Vyapari Kshatipurti Beema Yojna (MVKBY) schemes, Khattar said the budgetary provisions for all "enhancements" announced had the go-ahead of the Finance Department.
"We got every announcement cleared from the Finance Department. This is unlike the announcements made by the outgoing Congress government of 2014 just before ringing in the elections for which no allocation was ever made or cleared," Khattar clarified, taking a dig at the rival party and its leadership.
Giving details of the trader-insurance MVSNDBY scheme, the Chief Minister said an insurance cover of Rs 5 lakh would be provided to the traders for any permanent disability or in the case of his accidental death. "They don't need to go and apply anywhere and they don't have to pay anything. They will all become beneficiaries based on the data of registered GST traders," Khattar explained, adding that there were 3.86 lakh beneficiaries in this category.
Under the MVKBY with 3.13 lakh beneficiaries, the stock of the traders will be insured at absolutely no cost to them. "If there is any loss of stock and furniture by fire, burglary, floods and earthquakes, the traders will be compensated on the basis of their turnover," Khattar said.
Excise and Taxation Commissioner Amit Aggarwal said that traders with a turnover of Rs 20 lakh would be given a compensation of Rs 5 lakh, and those with a turnover between Rs 20-Rs 50 lakh would be given Rs 10 lakh. Those with Rs 50 lakh to Rs 1 crore turnover would be given 15 lakh, and Rs 1crore to Rs 1.5 crore turnover would get Rs 20 lakh for the damaged or destroyed stock.
Six traders were given insurance certificates to mark the launch of the scheme. Khattar launched the scheme with the click of a button in the presence of chairman of the Traders Welfare Board, SK Jain, PSCM Rajesh Khullar, and Additional Chief Secretary, Excise and Taxation, Sanjeev Kaushal. Khattar said the United India Insurance Company had been picked up after the completion of the tendering process. A premium of Rs. 36.13 crore will be paid by the government.
Commenting on the court's directions to Punjab and haryana to resolve the SYL issue through talks, the Chief Minister said that Haryana has made it clear that it will not compromise on its water share. "This much has been conveyed to Punjab. There is no agenda so far on any further discussion on SYL," he said.
'Poll code to kick in soon'
Maintaining that this was his last official press conference before Haryana goes to the polls, Chief Minister Manohar Lal Khattar, when asked when the code would come into force, said, "It can happen anytime. The Prime Minister is going to Jharkhand for a rally tomorrow which means it can come into force tomorrow evening or on September 13 or 14."
Khattar has shown lollipop to bizmen: Selja
Haryana Pradesh Congress Committee president and Rajya Sabha MP Kumari Selja has called the announcements made by Chief Minister Manohar Lal Khattar not more than an effort to again mislead the people of the state. She said for the last five years, the Chief Minister did not bother to ameliorate the lot of the people, but now, at a time when the code of conduct is just going to be imposed, "he has shown a lollipop to the business community, safai karamcharis etc". She said these announcements made at the last moment had no relevance.
When crown didn't lie easy on CM's head
In response to a question on the Jan Aashirwad Yatra video clip showing him pulling up a BJP leader, Khattar clarified that if his party leader, without permission or intimation, tried to place a silver crown on his head, he had every right to be angry. "On day one, we had ruthlessly shunned this politics of gold and silver crowns. This is very typically Congress culture and that of some other parties. I have an aversion to this and I am within my right to pull up my own man for thrusting it on me," Khattar said.
Announcements
Families having annual income of Rs 1.8 lakh to be covered under the Ayushman Bharat Yojana
Pal Gadariya sub-caste of the Sansi tribe to be considered as SC
Families residing in 'dhanis' outside the radius of 1 km from villages to get electricity connections under the Manohar Jyoti Yojana and solar invertors at a subsidy of Rs 6,000 and Rs 10,000
Enhancement of the monthly wages of the safai karamcharis working in urban areas from Rs 13,500 to Rs 15,000 and in rural areas from Rs 11,000 to Rs 12,500
Employees working under the Urban Health Mission to be given benefit on the pattern of employees of the National Health Mission
Daily wagers of Cooperative Sugar Mills to be given benefit of 14.29% on a par with the regular employees and Rs 1.88 crore as arrears
Model service bylaws prepared for the employees of District Information Technology Society
Part-time tubewell operators engaged by panchayats to be made full-time tubewell operators
10% seats to be reserved for employees of Primary Agriculture Cooperative Societies for promotion in Central Cooperative Banks
Rural chowkidars to be covered under the Employees Provident Fund
Eligible beneficiaries of the mid-day meal scheme to be covered under the Mukhamantri Parivar Samridhi Yojana. Physically challenged employees to get reservation of 3% in promotion in power utilities
Cities