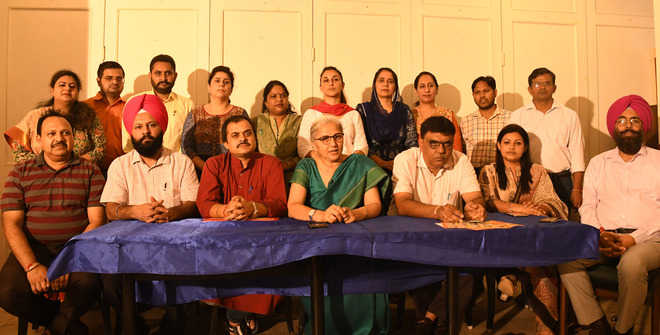 ROBINSINGH@TRIBUNE.COM
Tribune News Service
Chandigarh, August 18
At Panjab University, Professor Rajesh Gill, who is in the fray for the president's post in the upcoming PUTA elections, released the election manifesto of her party. "We are an action-oriented team and we believe in the policy of persuasion and protest," maintained Gill's team.
Gill, the incumbent PUTA president, said PUTA had been acting as PU's watchdog for the past two years. She also presented PUTA's report card. "We have always stood for upholding the dignity of teachers. Our team conveyed to the Vice-Chancellor in unambiguous terms that disrespect to any of the teachers shall not be tolerated.
As a watchdog, PUTA forced authorities to withdraw several measures detrimental to the teachers' interest." Stating that these measures included biometric attendance for teachers, digitisation of student feedback system, mandatory combo cards violating the privacy, compulsory filing of property returns by the teachers, house allotment on priority basis, etc,. Gill shared that they stonewalled efforts to 'review' rotation policy.
"It was with PUTA's intervention that handing over the officiating charge of DUI and Vice Chancellor arbitrarily to a few chosen persons was discontinued and the principle of seniority was followed," she added. PUTA, she said, has taken a consistent stand against 'pick and choose' appointments of dean research, hostel wardens, chairpersons, etc.
PUTA, with Gill as its president, got a committee constituted for facilitating the sanction of child care leave. "Rs 5 crores were sanctioned on the special initiative of PUTA leadership to provide computers to teachers in Humanities, Languages, Laws, USOL, DES, etc., which have subsequently been provided to them. Printers have also been purchased for each faculty member and these shall also be handed over very soon. Remaining funds shall be utilised for providing computers etc. to faculty membersacross the disciplines who are in need of these," she said.
Sharing their future priorities, Gill's team shared that maintaining a good work environment to preserve the dignity and self-respect for all teachers was going to be a major challenge in the wake of arrogant attitude of the authorities towards teachers. "A rigorous struggle shall be launched for the immediate implementation of the 7th Pay Commission. We took the matter to the Board of Finance for delinking PU salary from Punjab Government. Also, recruitment of faculty is the need of the hour," she said.
Strategising for the grant of Central University Status tops Gill's priority list too. "Greater representation of teachers on the governing bodies and transparency in administration shall be our goals within the purview of governance reforms. Early finalisation of promotion policy for colleagues in the Dental Institute of the University is also on our cards. We went to UGC to bring the pending communication. Thereafter, information from several other universities, which have recently implemented promotion policies, was collated," Gill shared. Gill said that her team has been working towards opening pension for all.