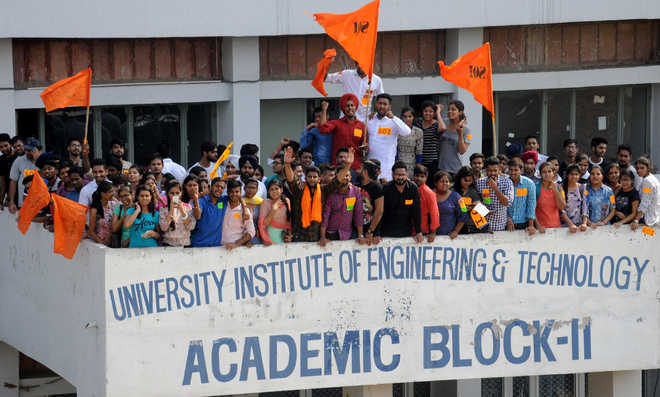 editorial@tribune.com
Tribune News Service
Chandigarh, September 5
The rallies organised by several student parties on the Panjab University campus received a lukewarm response today. Interestingly, only the rally of the Student for Society (SFS) was joined by a considerable number of campus students while the SOI, PUSU and NSUI alliances had to call outsiders.
Student leaders had a tough time keeping the students along with them till the culmination of their rallies. Not taking much chance, all prominent parties took shorter routes, covering only the arts block and the departments near the the Department of Physics.
During the rallies, a large number of their supporters left their leaders when they reached the Student Centre to have refreshments and leaders of the main student parties were seen requesting them not to leave. They were also offered lunch after the rally.
NSUI candidate Siya Minocha, who is contesting the elections on the issue of woman empowerment, failed to attract girls. Of the around 150 that took part in the NSUI rally, only 40-50 were girls. The Panjab University Students' Union (PUSU) also failed to attract students. Surprisingly, the Student Organisation of India (SOI) wrapped up its show an hour early. The main attraction of their rally was Jaguar, Hummer and Land Rover cars.
Parties don't care too hoots for norms
Supporters of the SOI, PUSU and NSUI alliances left a trail of garbage behind. Stickers and flags were seen scattered all over the varsity in violation of the Lyngdoh panel norms.