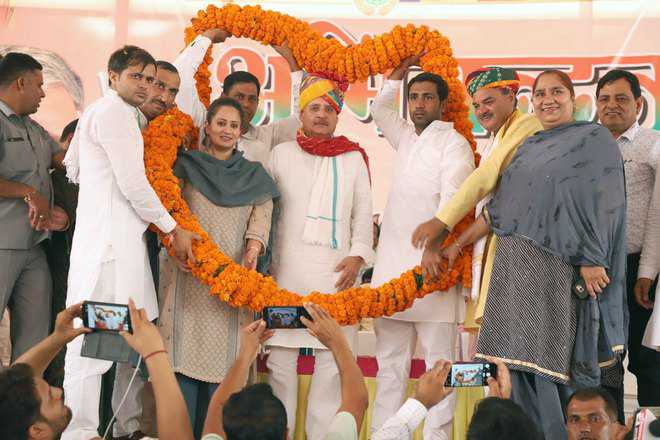 editorial@tribune.com
Ravinder Saini
Tribune News Service
Rewari, September 11
In a departure from his earlier standpoint, Union Minister Rao Inderjit Singh today showered praise on Chief Minister Manohar Lal Khattar at the Abhinandan Rally held in Nahad town of the district for the developmental works undertaken in south Haryana during the past five years.
Rao, who has earlier openly criticised Khattar on several occasions and even snubbed Kosli MLA Vikram Yadav at the Dahina rally last month for applauding Khattar's functioning, said the CM had ensured equitable development in the state, hence people of south Haryana were happy with the BJP government.
He claimed that successive governments used south Haryana to fulfil their political interests but did not focus on its development. The area kept facing neglect for long, forcing him to join the BJP after quitting the Congress before the Lok Sabha poll in 2014.
"In 2014, I had staked claim for the post of chief minister so that justice could be ensured to south Haryana. I am happy that CM Khattar has carried out development of south Haryana without any discrimination during the past five years. He ensured the canal water reached villages in the tail-end, so I am not remorseful that I did not get the CM post," said Rao.
The minister maintained that he had no objection to applauding the CM on a job done well but he also did not hesitate to express his views if he felt that there was a wrong done.
Rao said he had joined the BJP with the confidence that it would work a lot for the nation. "The party was doing excellent work and the people too approved the work by giving it a thumping majority in the Lok Sabha elections held recently," he added.
Kosli MLA Vikram Singh Yadav was not present at the rally while Rao's daughter Aarti Rao addressed the gathering and sought support from the people for the BJP in the coming Assembly elections. According to sources, Rao is lobbying to get a BJP ticket for his daughter from any of the Assembly constituencies in Rewari or Mahendragarh districts.
Was critical of Chief Minister in the past
Union Minister Rao Inderjit Singh, who had earlier openly criticised Khattar on several occasions and even snubbed Kosli MLA Vikram Yadav at the Dahina rally last month for applauding Khattar's functioning, said the Chief Minister had ensured equitable development in the state, hence people of south Haryana were happy with the government
Eyeing party ticket for daughter Aarti
Kosli MLA Vikram Singh Yadav was not present at the rally while Rao's daughter Aarti Rao addressed the gathering and sought support from the people for the BJP in the upcoming Assembly elections. According to sources, Rao is lobbying to get the BJP ticket for his daughter from any of the Assembly constituencies in Rewari or Mahendragarh districts
Cities