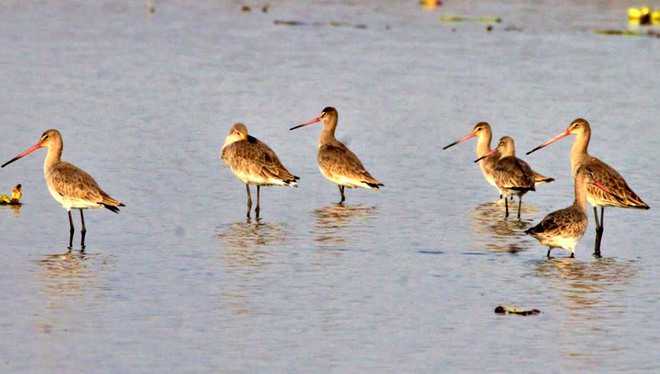 editorial@tribune.com
Aman Sood
Tribune News Service
Patiala, January 22
Bird lovers in the state are in for a treat with all four state wetlands witnessing a higher turnout of migratory birds, some of them rare.
The Wildlife Department has spotted the greater white fronted geese for first time in Nangal wetland.
The findings have come to light following the completion of water bird census by the department on Tuesday.
Kuldeep Kumar, Principal Chief Conservator of Forests (Wildlife), said: "Raptors like red-headed falcon, peregrine falcon, Eurasian hobby, imperial eagle, greater spotted eagle, osprey spotted in Harike Wetland show that the five wetlands still hold flora and fauna which is adequate to attract birds from far-off areas."
"Birds from as far as Siberia have turned up, a rare phenomenon. We have a number of such birds that are being observed by our experts," he said.
The census, which was conducted by the department in association with World Wildlife Fund and some bird watchers, covered Ropar, Nangal, Kanjli and Harike wetlands.
As per the census, the top five species at Harike are Eurasian coot (73,765), Gadwal (22,553), greylag goose (8,321), little cormorant (3,540) and Eurasian wigeon (2,054).
Experts say the turnout of water birds in wetlands of Punjab is one of the highest as compared to previous years. "Flocks of rare birds like northern lapwing, black-tailed godwit were sighted at Harike. Species includes Jerdon's babler, rufous-vented prinia, moustached warbler and short-eared owl," said Kuldeep Kumar, adding that the state wetlands had successfully saved its habitat.
So far 21 species of mammals, 384 birds, seven turtles, four snakes, six taxa of amphibians, 16 fishes, 189 invertebrates and 38 plants have been recorded at Harike alone. The wetland is spread over 86 sq km.
Jaskaran Sandhu, member, Punjab State Wildlife Advisory Board and a wildlife photographer, says it is encouraging that such birds have started visiting Punjab wetlands. "We should now ensure that their habitat is conserved so that the numbers increase every year," he said.