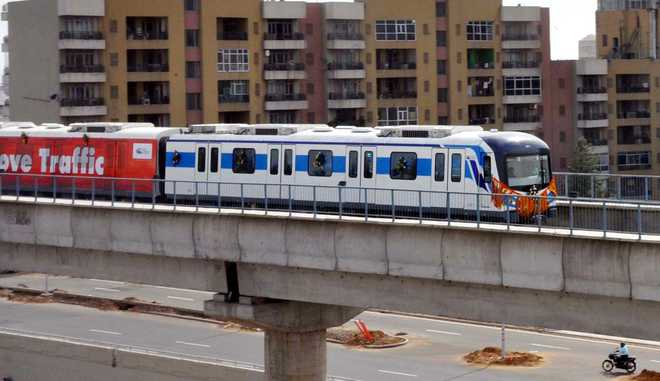 uttara@tribuneindia.com
Tribune News Service
Chandigarh, September 18
Less than 48 hours after the inking of a pact between Haryana Shahari Vikas Pradhikaran (HSVP) and Delhi Metro Rail Corporation Limited for preventing the derailing of the Rapid Metro Rail in Gurgaon, the organisation initially behind the project Rapid Metro Rail Gurgaon South Limited (RMRGSL) said on Wednesday it was willing to continue for the time being.
Appearing before the Bench of Justice Rakesh Kumar Jain and Justice Arun Kumar Tyagi, the company expressed willingness to continue for about a month till the handing over of the operations and maintenance to the DMRC in larger public interest.
The organisation also told the Bench that it was ready for an audit, but prayed to the court to appoint an auditor. Senior advocate Chetan Mittal, on the other hand, submitted on the petitioner-HSVP's behalf that the audit could be carried out by Comptroller and Auditor General of India or CAG's.
Taking a note of the contentions and certain other issues raised by RMRGSL, the Bench asked HSVP to respond before fixing September 20 as the next date of hearing. The interim order on continuation of operations on both the lines would continue for the time being. The developments come as a major relief for about 60,000 commuters travelling by Rapid Metro Rail in Gurgaon
The company had initially stated that the process of transfer of assets by them and payment of debt due by HSVP should be held simultaneously with the process of handing and taking over of the operations and maintenance. Mittal, on the other hand, argued that dispute between the parties over debt due would take time.
The Bench, on the previous date of hearing, had asserted that contracts executed for both the lines of the Rapid Metro Rail at Gurgaon had been terminated by both the parties—HSVP and RMGSL—by giving 90 days notice with effect from June 7 and the period was to come to an end on September 9. But the operations were to continue under High Court till the midnight of September 9.
Extending the stay, the Bench added it found that the dispute between the parties could be resolved by negotiation, for which they both would require some time.