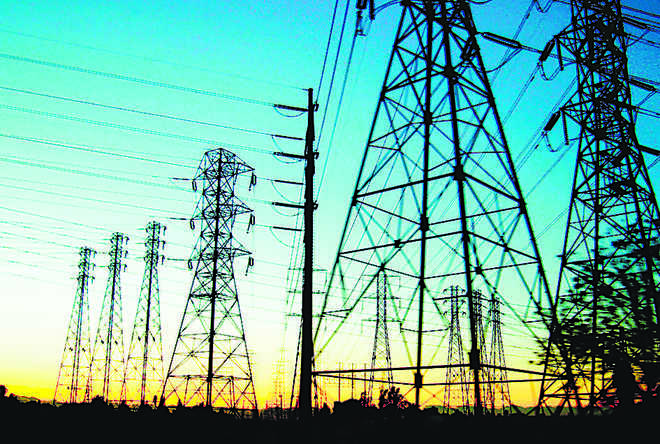 laxmi@tribune.com
Aman Sood
Tribune News Service
Patiala, September 10
Politically sensitive constituencies of Amritsar, Bathinda and Patiala are the top defaulters when it comes to power theft that causes a loss of over Rs 1,000 crore per annum to Punjab.
In the past one year, majority of power theft cases have been detected in these three divisions by Punjab State Power Corporation Limited (PSPCL) with fine of Rs 88.3 crore imposed on defaulters.
Power theft in parts of Punjab is one of the major causes behind distribution loss to the PSPCL that stood at 14.19 per cent for 2017-18. "As per initial estimates, the loss to the state has been pegged at Rs 1,000 crore per annum," claims PSPCL top brass.
"If we analyse power tariff allowed by Punjab State Electricity Regulatory Commission for 2019-20, the distribution losses of the state for 2017-18 are 14.19 per cent against a target of 12.05 per cent, which is 2.14 per cent (1,400 million units) higher. If these losses could have been recovered, consumers in Punjab could have benefited directly," said senior PSPCL officials. As per data collected by The Tribune, up to August in 2019-20, 7,56,646 connections were checked and 63,684 cases of theft detected and penalty of Rs 88.3 crore imposed. There were cases of power theft by farmers, industry, residential consumers and even government offices, including police stations. Insiders said political backing to those indulging in power theft was one of the major reasons behind annual increase in losses.
In Amritsar zone, Bhikhiwind division reported 71.36 per cent loss, Patti division 61.12 per cent, Amritsar West subdivision 48.24 per cent and Ajnala subdivision 45.71 per cent.
In Bathinda zone, Bhagta recorded a loss of 48.94 per cent, Zira 45.31 per cent, Bagha Purana 44.82 per cent, Malout 38.94 per cent, Badal 35.86 per cent, Rampura 31.5 per cent, Jalalabad 30.11 per cent, suburban Ferozepur 27.1 per cent and Gidderbaha 22.1 per cent.
In Patiala zone, major losses were reported from Patran (46.9 per cent), Lehra Gaga (46.4 per cent), City Barnala (31.5 per cent), Patiala East (26.87 per cent) and Samana (15.6 per cent).
"During the crackdown, at many places the PSPCL teams were obstructed and manhandled by residents and farmer unions, resulting in injuries to power officials. The role of certain officials is also under scanner for not doing their duty efficiently," claimed PSPCL officials.
PSPCL CMD Baldev Singh Sran said power thefts were putting additional burden on honest consumers. "We are taking strict action against PSPCL officials for their connivance in power theft and enforcement agencies have been issued instructions to act tough against those involved in power theft. We will not allow the mafia that causes over Rs 1,000-crore loss to us," he said. In many cases, villagers and farmer union members indulging in power theft were the ones opposing the PSPCL enforcement drive, he added.
PSPCL figures
45,915.07 MUs—Punjab's energy need in 2017-18
7,595.75 MUs—Distribution losses (14.19 per cent)
1,372 MUs—Transmission losses (2.5 per cent)
Amritsar, Bathinda, Patiala constituencies top defaulters, Rs 88.3-cr penalty imposed