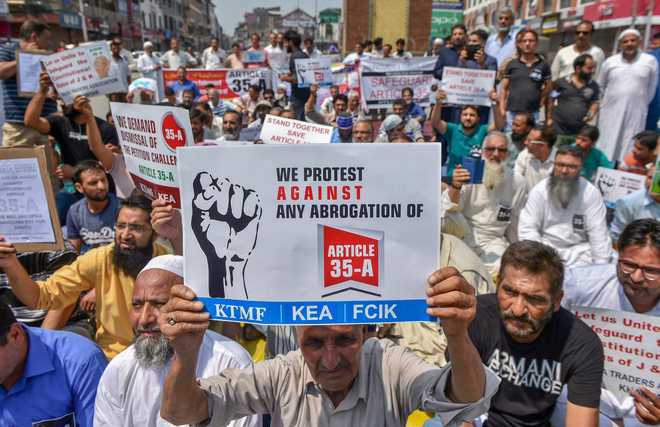 editorial@tribune.com
Azhar Qadri & Samaan Lateef
Tribune News Service
Srinagar, July 27
Rumours that Article 35A, which guarantees the state special status and has become a contentious issue, will be revoked anytime after August 15 have sparked fear and panic in the Kashmir valley.
Speculation in this regard is rife following a series of leaked government orders that suggested that the administration was gearing up for a possible fallout and unrest in the valley if the Article was revoked.
One of the orders came from the Home Ministry which has directed the deployment of 100 additional companies of the Central Armed Paramilitary Forces (CAPFs) in the state.
Another order came from the state administration which asked the commanding officers of the Armed Police and Reserve Police battalions and the principals of three police training schools in the Jammu zone to communicate the "shortfall of riot control equipment, gas guns and tear smoke shells".
The order described the issue as "most urgent" and also revealed that 100 additional companies of the police had been formed by mixing the manpower of the Armed Police battalions, Reserve Police battalions and trainee cops of the three training schools.
The indication of the severity of the rumours that Article 35A would be revoked on or after August 15 could be gauged from the reaction of mainstream politicians, including former Chief Minister Mehbooba Mufti, who said the decision to deploy more troops had created "fear psychosis amongst people".
"There is no dearth of security forces in Kashmir. J&K is a political problem which won't be solved by military means. The GoI needs to rethink and overhaul its policy," she wrote on Twitter.
She also shared another post which had asked the government "to clarify what it's up to in Kashmir rather than feeding the panic fires by deploying additional forces amidst talk of (Article) 35A revocation".
The discontent over the possible revocation of Article 35A is widespread in the Kashmir region and even the mainstream and former ruling parties have warned of dire repercussions if the law was tinkered with or revoked.
Former minister Sajad Lone said news about the deployment of additional troops had "created scare and panic among people". "Nobody seems to have the remotest idea of what is in the offing. The signs are ominous and rumour mills are rife with suggestions that the special identity of the Kashmiri people may be under attack," he said in a statement.
He said that if the government "indeed has any such intentions, it would tantamount to stretching adventurism to unacceptable limits".
Former IAS officer and now politician Shah Faesal also commented that the deployment was "fuelling huge anxiety in Kashmir". "No one knows why this sudden mobilisation of forces is being done. Rumours are that something sinister is about to happen. Article 35A?" he wrote.