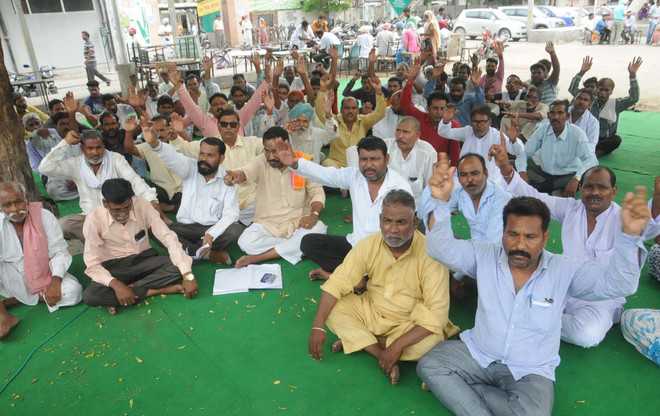 editorial@tribune.com
Bathinda, July 18
Sanitation went for a toss in the city for the second day as around 870 safai karamcharis of the Municipal Corporation, Bathinda, have been on a strike for the past more than 48 hours.
Heaps of garbage can be seen piled up on the roadside in various parts of the city.
Sanitation workers, who are engaged in door-to-door garbage collection, are collecting waste in the city, but after that, they are dumping it at secondary points.
Rain has further worsened the situation, posing a threat to residents as unattended garbage on roads has started emanating a foul smell. These places have been turning into a breeding ground for mosquitoes.
On Wednesday, the sanitation workers staged a protest in front of the MC office and raised slogans against the state government for not "fulfilling" their demands. The protest was headed by MC Sanitation Workers' Union president Vinod Kumar Mali.
The workers have been demanding the implementation of a pension scheme, regularisation of temporary employees' services, recruitment of new employees and special allowance of Rs1,000 per month in the PF along with interest.
Mali said, "On a call by the Punjab Municipal Workers' Committee, we suspended the work for two days. From Thursday, we will resume the work. If the government fails to accept our demands, we will intensify our agitation in the coming days. The government and MC deceive us every time. We have convened a number of meetings, but to no avail."— TNS
Cities