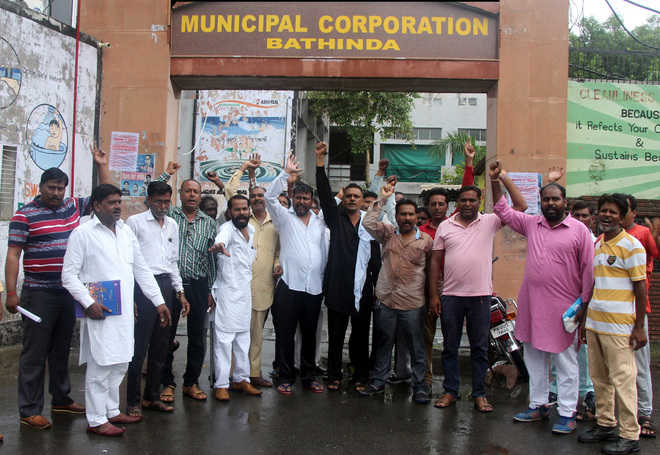 editorial@tribune.com
Tribune News Service
Bathinda, July 17
Members of the Sanitation Workers Union, on the call of the Punjab Municipal Workers Committee, on Tuesday started a two-day strike across the state.
The Municipal Corporation of Bathinda (MCB) unit of the union also participated in the strike by suspending cleanliness work and protesting outside the civic body's office.
The protest was headed by MCB Sanitation Workers Union president Vinod Kumar Mali. The protesters raised slogans against the state government.
Due to the strike, heaps of garbage could be seen lying on the roadsides. Moreover, the rain, which lashed the city on Tuesday, worsened the situation as rainwater flew garbage into sewerage pipes that were chocked at various points.
However, the door-to-door garbage collection workers did not participate in the protest and continued with their work.
Mali said they had been protesting for the past many years in support of their demands.
He said they had been demanding employees' salaries on time and end of contract system.
Mali said officials and leaders always gave them assurances, but no one worked for their betterment.
"Due to anti-employee polices of the government, we are forced to protest. Our other demands are the implementation of pension scheme, regularisation of temporary employees' services, recruitment of new employees, scrapping of new pension scheme, special allowance of Rs 1,000 per month to sanitation workers and employees PF along with interest," he said. Workers would continue their strike on Wednesday. It would further intensify the problems for the residents as garbage lying on roadsides has started emanating foul smell.
Top Stories