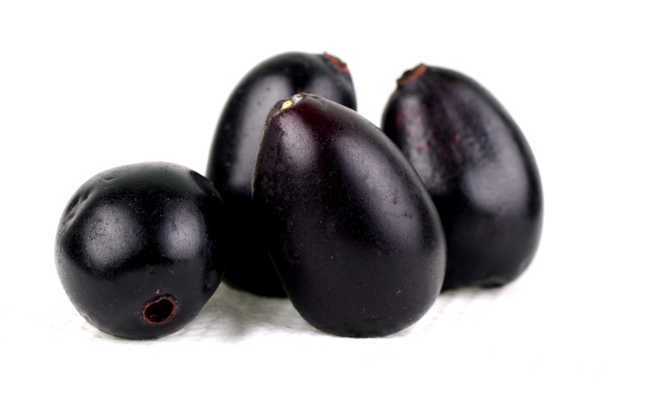 New Delhi, April 26
Plucking and feasting on fresh, delectable jamuns is a favourite childhood pastime during summer months, but scientists at IIT Roorkee have found a novel use for the juicy Indian fruit - making inexpensive solar cells.
Researchers used naturally occurring pigment found in jamun as an inexpensive photosensitiser for Dye Sensitised Solar Cells (DSSCs) or Gratzel cells.
Gratzel cells are thin film solar cells composed of a porous layer of titanium dioxide (TiO2) coated photoanode, a layer of dye molecules that absorbs sunlight, an electrolyte for regenerating the dye, and a cathode.
These components form a sandwich-like structure with the dye molecule or photosensitizer playing a pivotal role through its ability to absorb visible light.
"The dark colour of jamun and abundance of jamun trees in IIT campus clicked the idea that it might be useful as a dye in the typical Dye Sensitised Solar Cells (DSSC)," lead researcher Soumitra Satapathi, assistant professor at Indian Institute of Technology (IIT) Roorkee in Uttarakhand, told PTI.
Researchers extracted dyes from jamun using ethanol. They also used fresh plums and black currant, along with mixed berry juices which contain pigments that give characteristic colour to jamun.
The mixture was then centrifuged and decanted. The extracted coloured pigment called anthocyanin was used as a sensitiser.
"Natural pigments are way economical in comparison to regular Ruthenium-based pigments and scientists are optimising to improve the efficiency," said Satapathi, who is also a visiting professor at the University of Massachusetts Lowell in the US.
"The increasing pressure on fossil fuels and concern of global warming has inspired continuous search for alternate energy," said Satapathi
Uncertainty over the pace at which new large dams or nuclear plants can be built means strong reliance on solar power - an area where India has high potential and equally high ambition - to deliver on the country's pledge to build up a 40 per cent share of non-fossil fuel capacity in the power sector by 2030, researchers said.
"In principle, we have a large social need for renewable energy especially solar energy. For quite sometime, our lab is actively engaged in low cost high efficiency solar cells production," said Satapathi.
The research team, which includes Nipun Sawhney and Anubhav Raghav, is very optimistic that the process can easily be replicated for mass production of solar cells.
The simplicity and cost effectiveness of the overall fabrication process, widespread availability of fruits and juices, and ease of extraction of anthocyanin dyes render them novel and inexpensive candidates for solar cells application, researchers said.
The research was published in the Journal of Photovoltaics. — PTI
Top News
CM, Dy CM lose their seats | Congress tally reduced to one
Says parties must learn from defeat | Winter session begins,...