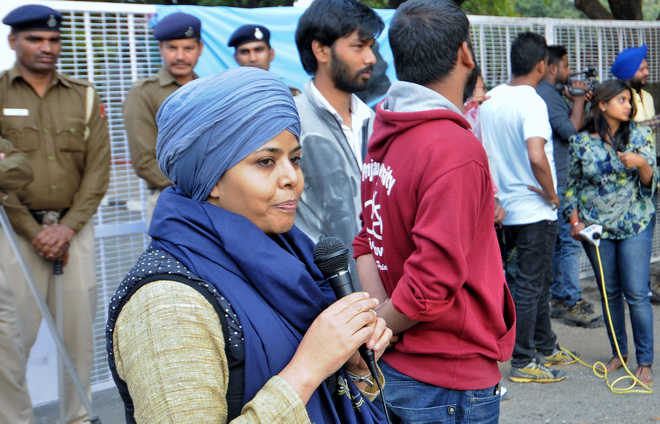 editorial@tribune.com
Tribune News Service
Chandigarh, March 3
Social activist Seema Azad today turned up at the venue of the SFS conference outside the PU Vice-Chancellor's office in typical filmy style by posing as a Sikh woman. During the conference, the SFS announced that Kirti from Kurukshetra University would address the gathering.
A woman in her mid-thirties, wearing a blue turban, khaki kurta and a pair of jeans, stood up from the gathering and start addressing the students on "Smash the rising head of fascism", the theme of the conference.
Before Seema addressed the gathering, the SFS announced that as Seema was not allowed to attend the conference, she had sent her handwritten letter to be read out to the students. Later, she was called to address the gathering.
"Student parties should connect themselves with social issues, like the SFS did today, for the betterment of society," Seema said. She shared her views on the Russian Revolution with the students and its importance.
In her 18-minute address, Seema spoke on the theme of the conference.
Interestingly, four ABVP supporters had doubts that the woman who was introduced as Kirti was actually Seema, but since they were not sure, they could not do anything. She left the venue on an Activa scooter with an SFS supporter without being noticed by the police.
Cops perplexed
After security personnel came to know that Seema had turned up to address the conference, they started asking each other how she looked like as none of them had seem her.
ABVP's claim
ABVP supporters, however, told mediapersons that they were successful in their move against Seema Azad as she was able to address the gathering only for a few minutes, that too posing a Sikh woman.