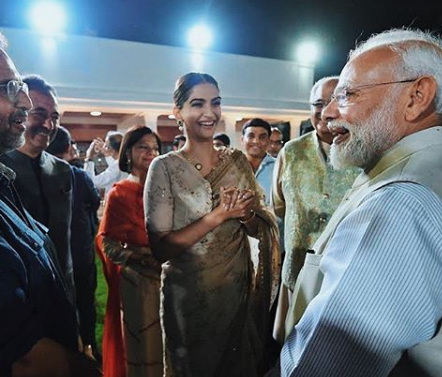 shriaya.dutt@tribuneindia.com
Tribune Web Desk
Chandigarh, October 20
"Ati, sundr": said a Twitter user, when a picture of Prime Minister Narendra Modi with the "Nari Shakti" of Bollywood surfaced on social media. Twitter went into a frenzy, when the pictures of Mahatma Gandhi event surfaced on Saturday.
Ati ⛅ sundr🤗🤗

— त्रिगरेन्द्र नोमी Trigrendra Nomi (@trigrendranomi) October 20, 2019
The picture of Modi with Bollywood actor Shah Rukh Khan was tagged: "Best Selfie of the year".
Best selfi of the year Sir.. pic.twitter.com/enIJMR1alx

— LizaaSRK (@Mastani4423509) October 20, 2019
The Prime Minister met Bollywood actors and filmmakers, and and released a cultural video with the theme 'Change Within' to mark the 150th birth anniversary of Mahatma Gandhi.
The 100-second video is based on Gandhi's life, teachings and values and features Aamir, Shah Rukh, Salman Khan, Ranbir Kapoor, Alia Bhatt, Sonam Kapoor Ahuja, Kangana Ranaut and Vicky Kaushal.
The PM tweeted pictures with the fraternity, saying the "interaction with leading film personalities and cultural icons was fruitful".
Among those present at the meeting were Sonam, Kangana, Jacqueline Fernandez, filmmakers Imtiaz Ali, Rajkumar Santoshi, Ashwini Iyer Tiwari, Nitesh Tiwari, Anurag Basu and producers Ekta Kapoor, Boney Kapoor and Jayantilal Gada.
The film fraternity comes together to pay tributes to Mahatma Gandhi!#ChangeWithin is an excellent effort, which will add momentum towards ensuring Gandhi Ji's message reverberates far and wide. It will also inspire citizens to take up causes dear to Bapu. pic.twitter.com/cS0RRekqTd

— Narendra Modi (@narendramodi) October 19, 2019
Kangana Ranaut hailed the initiatives taken by PM Modi. "From the bottom of my heart and on behalf of the entire film industry, I thank our prime minister and the things that he has said about propagating Gandhi philosophy and his way of live and values we will make sure we get something concrete from that," Ranaut added.
Another user couldn't stop gushing about the Prime Minsiter's smile with actor Varun Sharma and comedian Kapil Sharma. He wrote: "What an infectious smile."
What an infectious smile!

— JANAKIRANJAN DASH (@JanakiranjanD) October 20, 2019
TV and film producer Ekta Kapoor said this was the first time that she felt somebody understood the industry better than its insiders and was motivating them to do something for the society. — With PTI
Twitter reactions:
thoda kam v kr lijiye Pm ji ...humara economy kov thodai hi hello kjiye ....pmc bank crisis v chle jayiye

— shwetabh sinha (@shwetabh146) October 20, 2019
Real hero of India & World

— AKHILESHWAR MISHRA (@AKHILES46015300) October 20, 2019
Popularity Of Our PM Modi Ji 😎 #ChangeWithin pic.twitter.com/gLMAp8exZA

— Narendra Modi fan (@narendramodi177) October 19, 2019
Spreading the thoughts of Mahatma Gandhi through cinema, ensuring more youngsters are well-acquainted with the ideals of Gandhi Ji.

Today's interaction with leading film personalities and cultural icons was fruitful.

We exchanged thoughts on a wide range of subjects.

— Vipin Yadav (@vipin_ky) October 19, 2019
I can see @sonamakapoor there 😂😂😂😂😂... that's really funny

— Mondler🐻 (@akelaladunga) October 19, 2019
@sonamakapoor ko bulaya but @ReallySwara kahi nhi dikh rhi, hum ye bardast nhi krenge😜

— @IRajesh (@irajesh14) October 19, 2019
Gandhi ji thoughts will not work in current situation ji

— Vetri vel Bjp....🇮🇳 (@vetriii) October 19, 2019