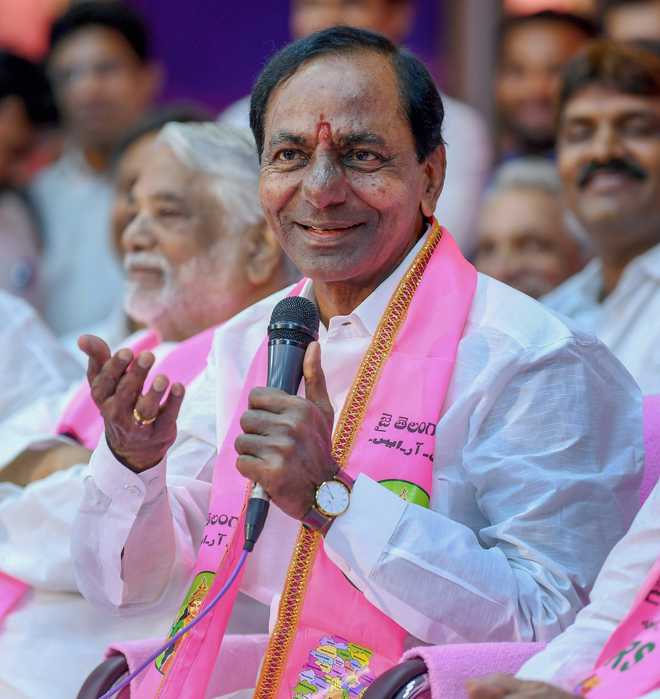 uttara@tribuneindia.com
Naveen S Garewal
Tribune News Service
Hyderabad, September 10
There is strong resentment among some senior leaders of Telangana Rashtra Samithi over Chief Minister K Chandrasekhar Rao's decision to induct his son KT Rama Rao and nephew T Harish Rao into the cabinet, sources say.
Last Sunday, KCR inducted six ministers into his cabinet, taking its strength from 11 to 17. Former ministers Nayini Narasimha and T Rajaiah, who were left out from the cabinet expansion, are reportedly unhappy. Narasimha, a founding member of the TRS and home minister in KCR's previous term, has reportedly been accusing the chief minister of having gone back on his promise of a cabinet berth for him and a ticket to the Member of Legislative Council for his son-in-law Srinivas Reddy,
Meanwhile, Rajaiah, a deputy chief minister in KCR's previous tenure, has been accusing the chief minister of denying the reserved Madiga, who fall under Scheduled Castes, representation in his cabinet, sources say.
Narasimha and Rajaiah are not the only ones unhappy with the cabinet expansion: other MLAs who have raised the issue of unfair representation are Adilabad MLA Jogu Ramanna, a former forest minister; Asifabad MLA Atram Sakku; and Khanapur MLA Ajmeera Rekha Naik.
Ramanna has reportedly returned his security, switched off his phone and is not talking to anyone.
Still, KCR, a seasoned politician, has tried to give more representation in his recent cabinet expansion—Sabitha Indra Reddy, who was inducted on Sunday, represents both Woman and Reddy community and while Gangula Kamalakar represents Backward Castes.
Despite the resentment among some leaders, KCR's government currently faces no threat, given their overwhelming numbers in the assembly—the party won 88 of 119 seats in last year's assembly elections, after which 12 Congress MLAs and one from Telugu Desam Party switched over.
It now remains to be seen how the BJP, which has its sights set on expanding into Telangana, would use the situation to its advantage. TRS party's first challenge since Lok Sabha elections is already near—the forthcoming municipal elections in Hyderabad.
With Harish Rao's induction into the cabinet, the chief minister appears to have put an end to all talks of his possible plans to break away from the party.